01.12.2018 | Case report | Ausgabe 1/2018 Open Access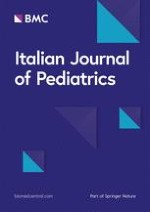 Metabolic acidosis as Food Protein Induced Enterocolitis Syndrome (FPIES) onset in a newborn
Zeitschrift:
Autoren:

Antonella Peduto, Mario Rocca, Cinzia De Maio, Federica Gallarotti, Giulia Pomero, Paolo Gancia
Abstract
Background
FPIES (Food Protein Induced Eneterolitis Syndrome) is a rare non IgE- mediated food allergy, usually affecting infants and children after first months of life. Clinical presentation is heterogeneous, usually characterised by repetitive vomiting and diarrhoea, lethargy, failure to thrive until to dehydration with hypotension and shock. The diagnosis is based on clinical criteria, after excludind other hypothetical conditions. Early recognition of FPIES is essential to set a correct dietatay management that is resolving for the patient.
Case report
We present the case of a 12 days old child who was admitted to the hospital for poor feeding, failure to thrive and severe metabolic acidosis.
Conclusions
The early onset of this case is peculiar and rember us to consider FPIES in differential diagnosis of newborn metabolica acidosis.