26.09.2017 | Review | Ausgabe 1/2018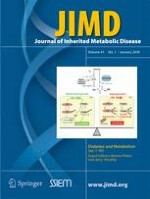 Metabolic pathways at the crossroads of diabetes and inborn errors
Zeitschrift:
Autoren:

Eric S. Goetzman, Zhenwei Gong, Manuel Schiff, Yan Wang, Radhika H. Muzumdar
Wichtige Hinweise
Communicated by: Jerry Vockley
Abstract
Research over the past two decades has led to advances in our understanding of the genetic and metabolic factors that underlie the pathogenesis of type 2 diabetes mellitus (T2DM). While T2DM is defined by its hallmark metabolic symptoms, the genetic risk factors for T2DM are more immune-related than metabolism-related, and the observed metabolic disease may be secondary to chronic inflammation. Regardless, these metabolic changes are not benign, as the accumulation of some metabolic intermediates serves to further drive the inflammation and cell stress, eventually leading to insulin resistance and ultimately to T2DM. Because many of the biochemical changes observed in the pre-diabetic state (i.e., ectopic lipid storage, increased acylcarnitines, increased branched-chain amino acids) are also observed in patients with rare inborn errors of fatty acid and amino acid metabolism, an interesting question is raised regarding whether isolated metabolic gene defects can confer an increased risk for T2DM. In this review, we attempt to address this question by summarizing the literature regarding the metabolic pathways at the crossroads of diabetes and inborn errors of metabolism. Studies using cell culture and animal models have revealed that, within a given pathway, disrupting some genes can lead to insulin resistance while for others there may be no effect or even improved insulin sensitivity. This differential response to ablating a single metabolic gene appears to be dependent upon the specific metabolic intermediates that accumulate and whether these intermediates subsequently activate inflammatory pathways. This highlights the need for future studies to determine whether certain inborn errors may confer increased risk for diabetes as the patients age.