01.12.2017 | Study protocol | Ausgabe 1/2017 Open Access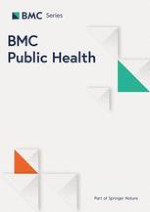 Metabolic risk management, physical exercise and lifestyle counselling in low-active adults: controlled randomized trial (BELLUGAT)
Zeitschrift:
Autoren:

Assumpta Ensenyat, Gemma Espigares-Tribo, Leonardo Machado, Francisco José Verdejo, Rosa Rodriguez-Arregui, José Serrano, Marta Miret, Gisela Galindo, Alfonso Blanco, Josep-Ramon Marsal, Susana Sarriegui, Xenia Sinfreu-Bergues, Noemi Serra-Paya
Abstract
Background
The primary aim of this study is to evaluate the effectiveness of different doses (intensity) of supervised exercise training — concomitant with lifestyle counselling — as a primary care intervention tool for the management of metabolic syndrome risk factors in low-active adults with one or more such factors (programme name in Catalan: Bellugat de CAP a peus).
Methods/Design
Three-arm, randomized controlled clinical trial implemented in the primary care setting, with a duration of 40 weeks (16 weeks intervention and 24-week follow-up).
Adults aged 30 to 55 years with metabolic risk factors will be randomized into three intervention groups: 1) aerobic interval training (16 supervised training lessons) plus a healthy lifestyle counselling programme (6 group and 3 individual meetings); 2) low-to-moderate intensity continuous training (16 supervised training lessons) plus the same counselling programme; or 3) the counselling- programme without any supervised physical exercise.
The main output variables assessed will be risk factors for metabolic syndrome (waist circumference, blood pressure, and levels of plasma triglycerides, high-density lipoproteins and glucose), systemic inflammation, cardiorespiratory fitness, physical activity and sedentary behaviour, dietary habits, health-related quality of life, self-efficacy and empowerment. Economic factors will also be analysed in order to determine the cost-effectiveness of the programme. These variables will be assessed three times during the study: at baseline, at the end of the intervention, and at follow-up. We estimate to recruit 35 participants per group.
Discussion
The results of this study will provide insight into the immediate and medium-term effects on metabolic risk and lifestyle of a combined approach involving aerobic interval training and a multidisciplinary behavioural intervention. If effective, the proposed intervention would provide both researchers and practitioners in this field with a platform on which to develop similar intervention programmes for tackling the repercussions of an unhealthy lifestyle.
Trial registration
Clinical trials.gov.
NTC02832453
. Registered 6 July 2016 (retrospectively registered).