09.12.2017 | Review | Ausgabe 2/2018 Open Access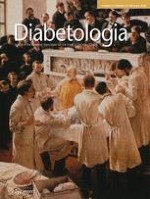 Metabolic surgery for the treatment of type 2 diabetes in obese individuals
Zeitschrift:
Autoren:

David E. Cummings, Francesco Rubino
Wichtige Hinweise
Electronic supplementary material
Abstract
Several bariatric operations originally designed to promote weight loss have been found to powerfully treat type 2 diabetes, causing remission in most cases, through diverse mechanisms additional to the secondary consequences of weight loss. These observations have prompted consideration of such operations as 'metabolic surgery', used expressly to treat diabetes, including among patients who are only mildly obese or merely overweight. Large, long-term observational studies consistently demonstrate that bariatric/metabolic surgery is associated with reductions in all cardiovascular risk factors, actual cardiovascular events, microvascular diabetes complications, cancer and death. Numerous recent randomised clinical trials, directly comparing various surgical vs non-surgical interventions for diabetes, uniformly demonstrate the former to be superior for improvements in all glycaemic variables, as well as other metabolic endpoints. These benefits are similar among individuals with type 2 diabetes and a preoperative BMI of 30–35 kg/m2 compared with traditional bariatric surgery patients with a BMI >35 kg/m2. The safety profiles of modern laparoscopic bariatric/metabolic operations are similar to those of elective laparoscopic hysterectomy and knee arthroplasty. However, more evidence regarding the risks, benefits and costs of surgery is needed from very long-term (>5 year) randomised clinical trials powered to observe 'hard' clinical endpoints following the operations most commonly used today. Given the efficacy, safety and cost-effectiveness of metabolic surgery, the second Diabetes Surgery Summit (DSS-II) consensus conference recently placed surgery squarely within the overall diabetes treatment algorithm, recommending consideration of this approach for patients with inadequately controlled diabetes and a BMI as low as 30 kg/m2, or 27.5 kg/m2 for Asian individuals. These new guidelines have been formally ratified by 53 leading diabetes and surgery societies worldwide. Given this broad level of endorsement, we feel that the DSS-II recommendations should now replace the outdated National Institutes of Health (NIH) suggestions that have governed bariatric surgery practice and insurance compensation worldwide since 1991.