28.05.2018 | Original Article | Ausgabe 2/2018 Open Access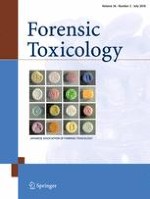 Metabolism of α-PHP and α-PHPP in humans and the effects of alkyl chain lengths on the metabolism of α-pyrrolidinophenone-type designer drugs
Zeitschrift:
Autoren:

Shuntaro Matsuta, Noriaki Shima, Hidenao Kakehashi, Hiroe Kamata, Shihoko Nakano, Keiko Sasaki, Tooru Kamata, Hiroshi Nishioka, Akihiro Miki, Kei Zaitsu, Hitoshi Tsuchihashi, Munehiro Katagi
Wichtige Hinweise
Electronic supplementary material
Abstract
Purpose
This study aims to investigate the urinary metabolites of two common α-pyrrolidinophenones (PPs), α-pyrrolidinohexiophenone (α-PHP) and α-pyrrolidinoheptanophenone (α-PHPP). This report also aims to discuss the effects of alkyl chain lengths on the metabolism of PPs.
Methods
Urinary metabolites of α-PHP and α-PHPP have been investigated by analyzing urine samples from their users (
n
 = 13 each) by liquid chromatography–high-resolution tandem mass spectrometry using reference standards of the metabolites synthesized in our laboratory.
Results and conclusions
For both drugs, metabolites via reduction of the keto moiety (1-OH metabolites) and via oxidation of the pyrrolidine ring (2″-oxo metabolites) were identified, and those via oxidation of the terminal (ω) or penultimate (ω-1) positions of the alkyl chain were tentatively identified. Quantitative analysis indicated oxidation of the pyrrolidine ring to be the major metabolic pathway for α-PHP (side chain R: hexyl), but ω or ω-1 oxidation was the major metabolic pathway for α-PHPP (R: heptyl). Comparison of their metabolic profiles with those of analogs with a longer or shorter side chain (studied previously for R: butyl, pentyl, and octyl) revealed that the alkyl chain length strongly influences the metabolic pathway. In addition, to the best of our knowledge, this is the first report describing the quantification of metabolites of α-PHP and α-PHPP in authentic urine specimens collected from the users using their reference standards synthesized.