15.06.2017 | Original Paper | Ausgabe 4/2017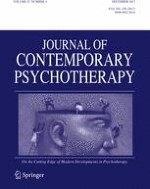 Metacognitive Interpersonal Therapy Improves Adherence to Antiretroviral Therapies in a Man with a Severe Personality Disorder: A Case Report
Zeitschrift:
Autoren:

Sonia A. Sofia, Paul H. Lysaker, Giancarlo Dimaggio
Wichtige Hinweise
The datasets analyzed during the current study are not publicly available. The datasets deposited in the infectious diseases department of the University of Catania, but are available from the corresponding author (S.S.) on reasonable request.
Abstract
Treatment adherence by patients with HIV ensures they gain the full benefit of antiretroviral medications and extend their lives. One problem which may contribute to poor adherence is deficits in metacognition or the capacity to make sense of mental states. In particular, persons who struggle to notice and think about their thoughts and feelings may be less able to direct their own recovery by taking advantage of effective treatments. This raises the possibility that treatments which lead to improved metacognitive function may enhance treatment adherence. We describe the case of a man in an advanced stage of AIDS with Kaposi's sarcoma. The patient was treated with Metacognitive Interpersonal Therapy combined with psychoeducation about pharmacological treatment for HIV. Primary medical outcomes were suppression of viral load, increase of CD4 count and control of AIDS related conditions such as Kaposi's sarcoma. The primary psychological outcome was reduction of personality disorders criteria. The patient was able to understand what led him to discontinue medication and then later regain full adherence. He achieved suppression of viral load and restore of CD4 count. As regard severity of personality disorder, he achieved reliable change. Interventions such as Metacognitive Interpersonal Therapy may assist patients with HIV to gain the metacognitive capacities to make sense of their medical and psychological challenges and adhere to antiretroviral therapies leading to enhanced levels of health. Future studies are needed to explore these findings in larger controlled studies.