01.09.2009 | Regular Article | Ausgabe 5/2009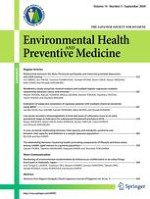 Metallomics study using hair mineral analysis and multiple logistic regression analysis: relationship between cancer and minerals
Zeitschrift:
Autoren:

Hiroshi Yasuda, Kazuya Yoshida, Mitsuru Segawa, Ryoichi Tokuda, Toyoharu Tsutsui, Yuichi Yasuda, Shunichi Magara
Wichtige Hinweise
"Metallomics," as well as genomics, transcriptomics, proteomics, metabolomics, and so on, is one of the "omics" sciences investigating metals and metalloids comprehensively; this term was coined by Prof. Haraguchi in 2001. A new international journal named
Metallomics
has been published since 2008 by the Royal Society of Chemistry.
Abstract
Objectives
The objective of this metallomics study is to investigate comprehensively some relationships between cancer risk and minerals, including essential and toxic metals.
Methods
Twenty-four minerals including essential and toxic metals in scalp hair samples from 124 solid-cancer patients and 86 control subjects were measured with inductively coupled plasma mass spectrometry (ICP-MS), and the association of cancer with minerals was statistically analyzed with multiple logistic regression analysis.
Results
Multiple logistic regression analysis demonstrated that several minerals are significantly correlated to cancer, positively or inversely. The most cancer-correlated mineral was iodine (I) with the highest correlation coefficient of
r
= 0.301, followed by arsenic (As;
r
= 0.267), zinc (Zn;
r
= 0.261), and sodium (Na;
r
= 0.190), with
p
< 0.01 for each case. In contrast, selenium (Se) was inversely correlated to cancer (
r
= −0.161,
p
< 0.05), followed by vanadium (V) (
r
= −0.128). Multiple linear regression value was highly significantly correlated with probability of cancer (
R
2
= 0.437,
p
< 0.0001), and the area under the receiver-operating characteristic (ROC) curve was calculated to be 0.918. In addition, using contingency table analysis and the chi-square test, the precision of discrimination for cancer was estimated to be 0.871 (chi-square = 99.1,
p
< 0.0001).
Conclusions
These findings suggest that some minerals such as arsenic, selenium, and probably iodine, zinc, sodium, and vanadium contribute to regulation of cancer and also that metallomics study using multiple logistic regression analysis is a useful tool for estimating cancer risk.