01.12.2017 | Case report | Ausgabe 1/2017 Open Access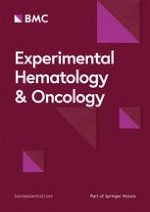 Metastatic BRAF K601E-mutated melanoma reaches complete response to MEK inhibitor trametinib administered for over 36 months
Zeitschrift:
Autoren:

Riccardo Marconcini, Luca Galli, Andrea Antonuzzo, Simona Bursi, Claudia Roncella, Gabriella Fontanini, Elisa Sensi, Alfredo Falcone
Abstract
Background
The BRAF K601E mutation occurs in 5% of patients with melanoma, and is the third most common type of BRAF mutation. However, treatment with BRAF and mitogen-activated extracellular signal-regulated kinase (MEK) inhibitors is only approved in patients with BRAF V600-positive melanoma, and patients with K601E-mutated melanoma do not have access to such drugs.
Case presentation
A female patient was diagnosed with high tumor burden metastatic melanoma harboring the BRAF K601E mutation. After chemotherapy failure, she underwent compassionate treatment with trametinib. Trametinib showed good activity and efficacy, with 48% shrinkage of a metastatic lymphadenopathy after 4 months' treatment. However, the patient reported treatment-related skin toxicity that required dosage reduction and a personalized intermittent trametinib dosing schedule. After over 36 months from the first trametinib administration, and resection of a metastatic lymphadenopathy, the patient experienced complete response.
Conclusions
This case report shows that trametinib could be a valid therapeutic option in patients with metastatic melanoma harboring the rare BRAF K601E mutation.