01.12.2017 | Case report | Ausgabe 1/2017 Open Access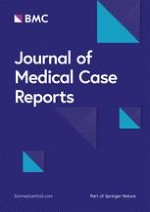 Metastatic colorectal cancer responsive to regorafenib for 2 years: a case report
Zeitschrift:
Autoren:

Kenji Yoshino, Dai Manaka, Ryo Kudo, Shunpei Kanai, Eisei Mitsuoka, Satoshi Kanto, Shinya Hamasu, Sayuri Konishi, Ryuta Nishitai
Abstract
Background
Regorafenib is an oral multikinase inhibitor that has been demonstrated as clinically effective in patients with metastatic colorectal cancer in phase III studies. Although disease control was achieved in 40% of the pretreated patients with metastatic colorectal cancer in the pivotal studies, radiological response has rarely been reported. Severe adverse events associated with regorafenib are known to occur during the first and second courses of treatment. We present a case of a 62-year-old Japanese patient whose metastatic colorectal cancer has been responding to treatment with regorafenib for 2 years.
Case presentation
A 54-year-old Japanese man visited our institute exhibiting general malaise, and he was diagnosed with ascending colon cancer in April 2006. He underwent right hemicolectomy, and the final staging was T3N0M0, stage II. After 19 months, pulmonary metastasis and anastomotic recurrences were detected, and a series of operations were performed to resect both metastatic lesions. After that, liver metastasis, a duodenal metastasis with right renal invasion, right adrenal metastasis, and para-aortic lymph node metastases were observed during follow-up, and chemotherapy and resection were performed. The patient had metastatic para-aortic lymph nodes after the fifth tumor resection and underwent multiple lines of chemotherapy in April 2014. Regorafenib monotherapy was started at 80 mg/day. Then, regorafenib was increased to 120 mg/day in the second cycle. Regorafenib monotherapy led to 60% tumor shrinkage within the initial 2 months, and the tumor further decreased in size over 4 months until it became unrecognizable on imaging studies. The clinical effects of regorafenib monotherapy have shown a partial response according to Response Evaluation Criteria in Solid Tumors criteria. No severe adverse events were observed, except for mild fatigue and hand-foot syndrome. The patient has received 24 courses of regorafenib over 2 years without exhibiting tumor progression.
Conclusions
To the best of our knowledge, this is the longest treatment with regorafenib without tumor progression ever reported. A reduced dosage of regorafenib at induction may ameliorate the cutaneous and hepatic toxicity associated with its use.