01.12.2014 | Case report | Ausgabe 1/2014 Open Access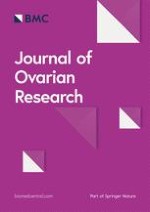 RETRACTED ARTICLE: Metastatic ovarian papillary cystadenocarcinoma to the small intestine serous surface: report of a case of high-grade histopathologic malignancy
Zeitschrift:
Autoren:

Fariba Khaki, Javad Javanbakht, Samieh Sharifzad, Mohammad Javad Gharagozlou, Farshid Khadivar, Javad Yaghoobi Yeganeh Manesh, Seyed Hojjat Hosseini, Ali Anissian, Seyed Rashid Touni, Alireza Gilvari, Fatemeh Soghra Abdi
Wichtige Hinweise
Electronic supplementary material
The online version of this article (doi:
10.​1186/​1757-2215-7-33
) contains supplementary material, which is available to authorized users.
The co-Editors-in-Chief and Publisher have retracted this article because the scientific integrity of the content cannot be guaranteed. An investigation by the Publisher found it to be one of a group of articles we have identified as showing evidence suggestive of attempts to subvert the peer review and publication system to inappropriately obtain or allocate authorship. This article showed evidence of plagiarism and peer review and authorship manipulation.
Competing interests
The authors declare that they have no competing interests.
Authors' contributions
FKH and MJGH participated in the histopathological evaluation, performed the literature review, acquired photomicrographs and drafted the manuscript and gave the final histopathological diagnosis. JJ, SSH, FKH, SHH, SRT, JYYM, ARG, FSA and AA designed and carried out all the experiments and the principal investigators of the laboratory in which the research were performed and contributed to the interpretation of the data and writing of the manuscript. All authors read and approved the final manuscript.
Abstract
Ovarian cystadenocarcinoma is characterized by marked heterogeneity and may be composed of an admixture of histologic growth patterns, including acinar, papillary and solid. In the present study, a case of isolated small intestine metastasis of ovarian papillary cystadenocarcinoma was reported. A 7-year-old female mixed-breed dog presented with a mass in the left upper quadrant with progressive enlargement of the abdomen, periodic bloody discharge from the vulva and incontinence. The tumor was histologically characterized by the presence of cysts and proliferation of papillae, both lined by single- or multi-layered pleomorphic epithelial cells. Furthermore, the mass was composed by intense cellular and nuclear pleomorphism and numerous mitotic figures. These findings indicate a tumor of high-grade malignancy with infiterative tumor cells resembling the papillary ovarian tumor in the serosal surface of the small intestine along with an intact serosa. Immunohistochemically, tumor was positive for CK7 and negative immunoreactivity for CK20. The histopathologic features coupled with the CK7 immunoreactivity led to a diagnosis of high grade ovarian papillary cystadenocarcinoma. To the best of our knowledge, this is the first case of small intestine serousal surface metastasis from ovarian papillary cystadenocarcinoma.