01.12.2017 | Research article | Ausgabe 1/2017 Open Access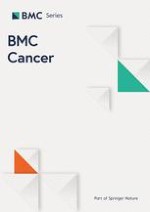 Metastatic polyp of the gallbladder from renal cell carcinoma
Zeitschrift:
Autoren:

Bor-Uei Shyr, Shih-Chin Chen, Yi-Ming Shyr, Rheun-Chuan Lee, Shin-E Wang
Abstract
Background
Gallbladder metastasis from renal cell carcinoma (RCC) is extremely rare. The purpose of this study is to clarify the characteristics of metastatic RCC to gallbladder.
Methods
The pooled data for analysis were collected from the case of metastatic RCC to gallbladder encountered by our institution along with sporadic cases reported in literature from 1991 to 2015.
Results
A total of 50 cases of metastatic RCC to gallbladder were recruited for study. Fifty-seven percentage of the primary RCC was from the right kidney and 43% from the left. The median interval between diagnoses of primary and metastatic RCC to gallbladder was 36 months, with the longest duration up to 324 months. Most (70%) were asymptomatic. The size of metastatic RCC to gallbladder ranged from 0.8 cm to 9 cm, with median of 2.6 cm. Majority (91%) of the metastatic RCCs presented as a polypoid mass with narrow stalk, and 82% were hypervascular lesion. The overall 1 year, 3 year and 5 year survival rate was 91.5%, 76.2% and 59.3% respectively, with a median of 26.5 months. Number of the metastatic site, timing of gallbladder metastasis, symptom, tumor size and operation type of cholecystectomy seemed to have no impact on survival.
Conclusions
Metastatic RCC to the gallbladder should be taken into account for a gallbladder polypoid mass with narrow hypervascular stalk during the diagnosis and/or follow-up of primary RCC. Gallbladder metastasis from RCC is not necessarily to be an advanced stage with poor outcome, and cholecystectomy is recommended whenever possible.