01.03.2012 | Case report | Ausgabe 1/2012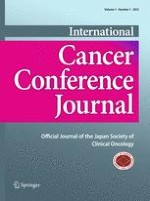 Metastatic prostate carcinoma detected at lymph node dissection for thyroid papillary carcinoma: report of a case
Zeitschrift:
Autoren:

Takayuki Yamamoto, Yoshihiro Tominaga, Toyonori Tsuzuki, Takahisa Hiramitsu, Koji Nanmoku
Wichtige Hinweise
This case was presented at the 23rd Annual Congress of the Japan Association of Endocrine Surgeons (7 July 2011, Tokyo).
Abstract
Skip metastasis from prostate cancer to cervical lymph nodes is very uncommon. We report the case of a 74-year-old man who was admitted to our hospital because of a thyroid cancer. Preoperative computed tomography (CT) imaging of the head and neck verified the previously detected mass at the left lobe of the thyroid gland. Cervical lymph nodes or signs of lung metastasis could not be found. The patient subsequently underwent total thyroidectomy with dissection of the central (I, II, III) and lateral zone lymph nodes (IV, Va, VI, VII). The diagnosis became T2Ex0N0M0. Histology verified a differentiated papillary thyroid carcinoma. Immunohistological examination showed that the origin of the metastases in the left cervical lymph nodes was the prostate and not the papillary thyroid carcinoma (PSA, PAP, p501S, p504S positive, CK7, CK20, p63, thyroglobulin-negative). The patient was referred to a urologist and prostate carcinoma was diagnosed by biopsy. The PSA level was 56.87 ng/ml and transrectal ultrasonography showed a prostate mass of 46 × 40 × 55 mm in size. Hormonal therapy decreased the PSA level to 3.74 ng/ml at 6 months after the operation. His general health condition is now good. This is the first report, as far as we know, describing a man whose prostate cancer was detected in the cervical lymph nodes after undergoing surgery for thyroid cancer.