01.12.2017 | Research | Ausgabe 1/2017 Open Access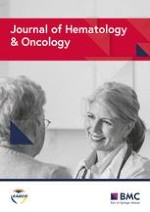 Metformin potentiates the effect of arsenic trioxide suppressing intrahepatic cholangiocarcinoma: roles of p38 MAPK, ERK3, and mTORC1
Zeitschrift:
Autoren:

Sunbin Ling, Haiyang Xie, Fan Yang, Qiaonan Shan, Haojiang Dai, Jianyong Zhuo, Xuyong Wei, Penghong Song, Lin Zhou, Xiao Xu, Shusen Zheng
Wichtige Hinweise
Electronic supplementary material
The online version of this article (doi:
10.​1186/​s13045-017-0424-0
) contains supplementary material, which is available to authorized users.
Abstract
Background
Arsenic trioxide (ATO) is commonly used in the treatment of acute promyelocytic leukemia (APL), but does not benefit patients with solid tumors. When combined with other agents or radiation, ATO showed treatment benefits with manageable toxicity. Previously, we reported that metformin amplified the inhibitory effect of ATO on intrahepatic cholangiocarcinoma (ICC) cells more significantly than other agents. Here, we investigated the chemotherapeutic sensitization effect of metformin in ATO-based treatment in ICC in vitro and in vivo and explored the underlying mechanisms.
Methods
ICC cell lines (CCLP-1, RBE, and HCCC-9810) were treated with metformin and/or ATO; the anti-proliferation effect was evaluated by cell viability, cell apoptosis, cell cycle, and intracellular-reactive oxygen species (ROS) assays. The in vivo efficacy was determined in nude mice with CCLP-1 xenografts. The active status of AMPK/p38 MAPK and mTORC1 pathways was detected by western blot. In addition, an antibody array was used screening more than 200 molecules clustered in 12 cancer-related pathways in CCLP-1 cells treated with metformin and/or ATO. Methods of genetic modulation and pharmacology were further used to demonstrate the relationship of the molecule. Seventy-three tumor samples from ICC patients were used to detect the expression of ERK3 by immunohistochemistry. The correlation between ERK3 and the clinical information of ICC patients were further analyzed.
Results
Metformin and ATO synergistically inhibited proliferation of ICC cells by promoting cell apoptosis, inducing G0/G1 cell cycle arrest, and increasing intracellular ROS. Combined treatment with metformin and ATO efficiently reduced ICC growth in an ICC xenograft model. Mechanistically, the antibody array revealed that ERK3 exhibited the highest variation in CCLP-1 cells after treatment with metformin and ATO. Results of western blot confirm that metformin and ATO cooperated to inhibit mTORC1, activate AMP-activated protein kinase (AMPK), and upregulate ERK3. Metformin abrogated the activation of p38 MAPK induced by ATO, and this activity was partially dependent on AMPK activation. Inactivation of p38 MAPK by SB203580 or specific short interfering RNA (siRNA) promoted the inactivation of mTORC1 in ICC cells treated with metformin and ATO. Activation of p38 MAPK may be responsible for resistance to ATO in ICC. The relationship between p38 MAPK and ERK3 was not defined by our findings. Finally, AMPK is a newfound positive regulator of ERK3. Overexpression of EKR3 in ICC cells inhibited cell proliferation through inactivation of mTORC1. ERK3 expression is associated with a better prognosis in ICC patients.
Conclusions
Metformin sensitizes arsenic trioxide to suppress intrahepatic cholangiocarcinoma via the regulation of AMPK/p38 MAPK-ERK3/mTORC1 pathways. ERK3 is a newfound potential prognostic predictor and a tumor suppressor in ICC.