01.12.2015 | Research article | Ausgabe 1/2015 Open Access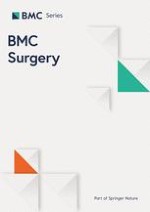 Methane-rich saline attenuates ischemia/reperfusion injury of abdominal skin flaps in rats via regulating apoptosis level
Zeitschrift:
Autoren:

Kexin Song, Mingzi Zhang, Jianqiang Hu, Yunqi Liu, Yifang Liu, Youbin Wang, Xuemei Ma
Wichtige Hinweise
Kexin Song and Mingzi Zhang first Author
Competing interests
The authors declare that they have no competing interests.
Authors' contributions
YW conceived the study. JH, Yunqi L and Yifang L were responsible for data management and statistical analyses. All authors were responsible for the interpretation of the data. KS and MZ wrote the report and all authors read and approved the final manuscript. KS and MZ contributed equally to this article and are co-first authors. All authors read and approved the final manuscript.
Abstract
Background
In plastic surgery, skin damage induced by ischemia/reperfusion (I/R) is a multifactorial process that often occurs. Methane gas has been reported to be a new therapeutic gas for attenuating I/R injury. In this study, we assessed the effects of methane-rich saline (MRS) in regulating apoptosis on skin flap I/R injury.
Methods
Male Sprague–Dawley rats, 6–8 weeks old, were divided randomly into three groups: one sham surgery group (SH) and two surgery groups. After undergoing 6 h of I/R management of an abdominal skin flap, surgery groups were treated with physiological saline (I/R-P) or methane-rich saline (I/R-M). On the 3rd postoperative day, a laser Doppler flowmeter was used to measure flap blood supply, and hematoxylin and eosin (H&E) staining was used to observe morphological changes. TdT-mediated dUTP-X nick end labeling (TUNEL) staining was also used to observe early apoptosis and is presented as the percentage of TUNEL-positive cells. Moreover, pASK-1, pJNK, Bcl-2 and Bax were detected by immunohistochemical technology. Caspase-3 activity was also measured to evaluate the effects of MRS.
Results
Compared to the I/R-P group, the flaps in the I/R-M group presented a larger survival area and better blood perfusion with less inflammatory infiltration and cell apoptosis, a higher expression of Bcl-2, a lower expression of pASK-1, pJNK and Bax, and a lower caspase-3 activity.
Conclusion
According to the results, MRS attenuated I/R injury by regulating apoptosis and has the potential to be applied as a new therapy for improving skin flap survival.