01.12.2018 | Research article | Ausgabe 1/2018 Open Access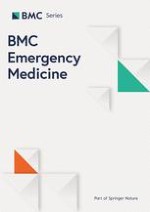 Methicillin resistant
Staphylococcus Aureus

in emergency department patients in the United Arab Emirates
Zeitschrift:
Autoren:

Muna Al Jalaf, Hanan Fadali, Rasha Alanee, Firas Najjar, Zulfa Al Deesi, Rania M. Seliem, Eric J. Nilles
Abstract
Background
Since the 1990s, community-associated methicillin resistant
staphylococcus aureus
(CA-MRSA) has emerged as an important global cause of skin and soft tissue infections. Little is known about the epidemiology of this pathogen in the Middle East.
Methods
We conducted a prospective observational study in a single large teaching hospital in Dubai to identify the incidence of community-acquired methicillin resistant
staphylococcus aureus
(MRSA) among ambulatory patients presenting with purulent skin and soft tissue infections. We performed wound cultures and administered standard questionnaires to 100 cases presenting to the emergency department. Bivariate and multivariate analyses were performed to identify risk factors for MSRA versus other pathogens.
Results
The prevalence of MRSA was 23% (18/78) among 78 culture-positive isolates and 29% (18/62) among Staphylococcus-positive isolates. 74% received antibiotics of which 4/74 (5%) received antibiotics appropriate for CA-MRSA infections. Multivariate adjusted analysis identified playing contact sports (OR 5.9 [95% CI 1.3–27.1]) and female sex (OR 6.3 [95% CI 1.6–24.8]) as independent risks for MRSA infection.
Conclusions
This is the first study to describe the epidemiology of CA-MRSA in the ambulatory setting in the Middle East and demonstrates a substantial proportion of cases presenting with skin and soft tissue infections were CA-MRSA. Although most skin and soft tissue infections are abscesses for which the cornerstone of treatment is high quality incision and drainage, if adjunct antibiotics are prescribed in this setting, CA-MRSA-active antibiotics should be considered.