15.04.2017 | Original Article | Ausgabe 4/2017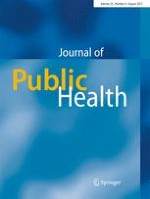 Methodology for identification of healthstyles for developing effective behavior change interventions
Zeitschrift:
Autoren:

Eszter Balku, Gergely Tóth, Erzsébet Nárai, Emese Zsiros, Péter Varsányi, József Vitrai
Abstract
Aim
The health of the Hungarian population is not as good as it could be according to the socioeconomic development of the country. Since unhealthy behavior is widespread in the population, behavior change seems to be an appropriate tool to improve health in Hungary. To develop effective interventions, it is first necessary to identify homogeneous groups of people from the point of view of behavior change, i.e., healthstyles. Our aim was to develop a suitable survey methodology and segmentation procedure for identifying healthstyles in Hungary. In this article we present the results of our methodological developments.
Subjects and methods
Several blocks of questions were developed based on the COM-B model, which synthesizes the most recognized behavior change models. The questions cover knowledge about and attitude to health, somatic and mental health status, subjective well-being, psychological characteristics, health behaviors, social support, media consumption, health-related information seeking and socio-demographic characteristics. Nationally representative two-stage samples of schoolchildren and adults were drawn. Iterative weighting was applied, which was supplemented with a design weight correcting the design effects. For segmentation, latent cluster analysis was used.
Results
Questionnaires based on the COM-B model were developed and administered to schoolchildren and adults. Several numerical and graphical methods were developed to explore the statistical characteristics of the segmentation models obtained by latent cluster analysis.
Conclusions
The developed survey methodology and segmentation methods were successfully applied to produce statistically stable clusters in both schoolchildren and adults. The statistical methods chosen for segmentation and validation of clusters seem suitable to identify healthstyles.