18.12.2017 | Original Research Paper | Ausgabe 4/2018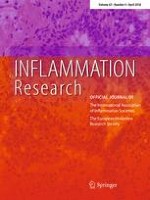 Methylation of cytokines gene promoters in IL-1β-treated human intestinal epithelial cells
Zeitschrift:
Autoren:

Fabio Caradonna, Ilenia Cruciata, Ilaria Schifano, Chiara La Rosa, Flores Naselli, Roberto Chiarelli, Anna Perrone, Carla Gentile
Wichtige Hinweise
Responsible Editor: Yoshiya Tanaka.
Electronic supplementary material
Fabio Caradonna and Carla Gentile contributed equally.
Abstract
Objective and design
Epigenetic regulation is important in the activation of inflammatory cells. In the present study, we evaluated if DNA-methylation variations are involved in Interleukin-1β (IL-1β)-induced intestinal epithelial cells activation.
Materials and methods
Differentiated Caco-2 cells were exposed to IL-1β or to 5-azadeoxycytidine (5-azadC) for 24 or 48 h. Genome-wide methylation status was evaluated, while DNA methylation status at the promoter region of the gene encoding interleukin-6, 8 and 10 (IL-6, 8 and 10) was estimated. The levels of the corresponding gene products as well as DNA methyltransferases (DNMTs) quantity were assessed.
Results
IL-1β decreased genomic methylation of human intestinal epithelial cells and induced demethylation at cg-specific sites at the promoter of pro-inflammatory genes
IL6
and
IL8
; conversely it did not change the methylation of the
IL10
promoter. IL-1β also increased the release of IL-6 and IL-8 but did not change the IL-10 expression. Finally, cell exposure to IL-1β decreased the DNMT3b expression, increased DNMT3a and was not able to change DNMT1 expression.
Conclusions
Our results suggest a potential role of IL-1β as modulator of DNA methylation in activated differentiated Caco-2 cell line.