31.10.2018 | Brief Communication | Ausgabe 1/2019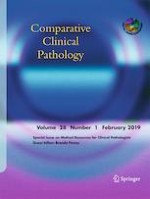 Methylation pattern and mutational status of
BRCA1

in canine mammary tumors in a Brazilian population
Zeitschrift:
Autoren:

Verena da Costa Ferreira, Danilo do Rosário Pinheiro, Raissa Melo de Sousa, Lucien Roberta Valente Miranda de Aguirra, Washington Luiz Assunção Pereira, Rommel Mario Rodriguez Burbano, Bárbara do Nascimento Borges
Abstract
In female dogs, mammary tumors are the most common neoplasia representing about 50% of the tumors affecting this species. In women, the importance of mutations in
BRCA1
and mammary tumors development is well established. However, little information is available on the molecular mechanisms that contribute to canine mammary tumors. In this work, we evaluated the mutational and methylation status of the
BRCA1
gene, in tumoral and non-tumoral tissues of canine mammary glands in order to characterize its influence in mammary carcinogenesis on this species. Samples of 16 animals were collected and two hotspot regions (intron 8-exon 9 and 5′UTR) were sequenced. For methylation analysis, the bisulfite sequencing PCR approach was used. No evidence of hypermethylation was observed in the
BRCA1
promoter region, suggesting this mechanism may not be involved in
BRCA1
silencing in canine mammary tumorigenesis. No alteration was observed in intron 8-exon 9 region. On the other hand, two polymorphisms in the 5′UTR region were observed: a transition (T > C) that has not been previously described in the literature, and observed in one patient with an unfavorable prognosis, and the previously described transversion (C > G). We suggest that methylation is not the main
BRCA1
inactivation mechanism in sporadic CMTs. Regarding the genetic alterations, two variations were detected in our population, and we were able to detect regional allele frequency differences in our population.