01.12.2016 | Case report | Ausgabe 1/2016 Open Access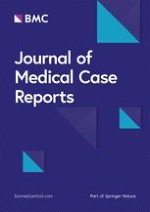 Micafungin versus caspofungin in the treatment of
Candida glabrata

infection: a case report
Zeitschrift:
Autoren:

Shoko Merrit Yamada, Yusuke Tomita, Tomotsugu Yamaguchi, Toshiaki Matsuki
Abstract
Background
Micafungin and caspofungin, which are both echinocandins, elicit their antifungal effects by suppressing the synthesis of β-D-glucan, an essential component of fungal cell walls. If micafungin is not effective against a fungal infection, is it unreasonable to switch to caspofungin?
Case presentation
An 80-year-old Asian man presented to our hospital with brain and lung abscesses.
Klebsiella pneumonia
and
Escherichia coli
were identified by sputa culture and
Streptococcus mitis
was identified in the brain abscess culture obtained by drainage surgery. He was treated with antibiotics and both abscesses shrank after the treatment. But he continued to have a high fever and
Candida glabrata
was identified by blood culture. The origin of the infection was not clarified and micafungin was administered intravenously. The fungus showed poor susceptibility to micafungin; we then switched the antifungal from micafungin to caspofungin. After caspofungin treatment, his body temperature remained below 37 °C and his β-D-glucan levels decreased remarkably.
Conclusions
In vitro
, micafungin is considered more effective against
C. glabrata
because its minimum inhibitory concentration against
C. glabrata
is lower than that of caspofungin. However,
in vivo
, there is no significantly different effect between the two drugs. When micafungin is not effective against candidiasis, a switch to caspofungin might be applicable because the pharmacokinetics in each echinocandin is slightly different.