01.06.2014 | Knee | Ausgabe 6/2014 Open Access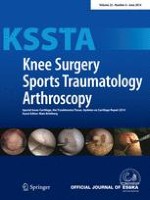 Microfracture technique versus osteochondral autologous transplantation mosaicplasty in patients with articular chondral lesions of the knee: a prospective randomized trial with long-term follow-up
Zeitschrift:
Autoren:

Svend Ulstein, Asbjørn Årøen, Jan Harald Røtterud, Sverre Løken, Lars Engebretsen, Stig Heir
Abstract
Purpose
To compare long-term functional and radiological outcome following microfracture technique (MF) versus osteochondral autologous transplantation (OAT) mosaicplasty for treating focal chondral lesions of the knee.
Methods
Twenty-five patients (mean age 32.3 years, SD 7.7) with a full-thickness (International Cartilage Repair Society grade 3 or 4) chondral lesion of the articulating surface of the femur were randomized to either MF (
n
= 11) or OAT mosaicplasty (
n
= 14). At a median follow-up of 9.8 years (range 4.9–11.4), the patients were evaluated using Lysholm score (
n
= 25), Knee Injury and Osteoarthritis Outcome Score (KOOS,
n
= 25), isokinetic quadriceps measurement and hamstring strength measurement (
n
= 22) and standing radiographs (
n
= 23).
Results
There were no significant differences in Lysholm score, KOOS, isokinetic muscle strength or radiographic osteoarthritis between MF-treated patients and OAT mosaicplasty-treated patients at follow-up. Mean Lysholm score at follow-up was 69.7 [95 % confidence interval (CI), 55.1–84.4] for the MF group and 62.6 (95 % CI, 52.6–72.6) for the OAT mosaicplasty group.
Conclusion
At long-term follow-up, there were no significant differences between patients treated with MF and patients treated with OAT mosaicplasty in patient-reported outcomes, muscle strength or radiological outcome.
Level of evidence
Therapeutic study, Level II.