01.12.2017 | Research | Ausgabe 1/2017 Open Access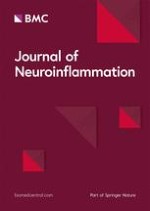 Microglial-derived microparticles mediate neuroinflammation after traumatic brain injury
Zeitschrift:
Autoren:

Alok Kumar, Bogdan A. Stoica, David J. Loane, Ming Yang, Gelareh Abulwerdi, Niaz Khan, Asit Kumar, Stephen R. Thom, Alan I. Faden
Abstract
Background
Local and systemic inflammatory responses are initiated early after traumatic brain injury (TBI), and may play a key role in the secondary injury processes resulting in neuronal loss and neurological deficits. However, the mechanisms responsible for the rapid expansion of neuroinflammation and its long-term progression have yet to be elucidated. Here, we investigate the role of microparticles (MP), a member of the extracellular vesicle family, in the exchange of pro-inflammatory molecules between brain immune cells, as well as their transfer to the systemic circulation, as key pathways of inflammation propagation following brain trauma.
Methods
Adult male C57BL/6 mice were subjected to controlled cortical impact TBI for 24 h, and enriched MP were isolated in the blood, while neuroinflammation was assessed in the TBI cortex. MP were characterized by flow cytometry, and MP content was assayed using gene and protein markers for pro-inflammatory mediators. Enriched MP co-cultured with BV2 or primary microglial cells were used for immune propagation assays. Enriched MP from BV2 microglia or CD11b-positive microglia from the TBI brain were stereotactically injected into the cortex of uninjured mice to evaluate MP-related seeding of neuroinflammation in vivo.
Results
As the neuroinflammatory response is developing in the brain after TBI, microglial-derived MP are released into the circulation. Circulating enriched MP from the TBI animals can activate microglia in vitro. Lipopolysaccharide stimulation increases MP release from microglia in vitro and enhances their content of pro-inflammatory mediators, interleukin-1β and microRNA-155. Enriched MP from activated microglia in vitro or CD11b-isolated microglia/macrophage from the TBI brain ex vivo are sufficient to initiate neuroinflammation following their injection into the cortex of naïve (uninjured) animals.
Conclusions
These data provide further insights into the mechanisms underlying the development and dissemination of neuroinflammation after TBI. MP loaded with pro-inflammatory molecules initially released by microglia following trauma can activate additional microglia that may contribute to progressive neuroinflammatory response in the injured brain, as well as stimulate systemic immune responses. Due to their ability to independently initiate inflammatory responses, MP derived from activated microglia may provide a potential therapeutic target for other neurological disorders in which neuroinflammation may be a contributing factor.