01.12.2017 | Research | Ausgabe 1/2017 Open Access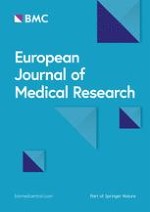 Microneedle physical contact as a therapeutic for abnormal scars
Zeitschrift:
Autoren:

David C. Yeo, Elizabeth R. Balmayor, Jan-Thorsten Schantz, Chenjie Xu
Wichtige Hinweise
Electronic supplementary material
The online version of this article (doi:
10.​1186/​s40001-017-0269-6
) contains supplementary material, which is available to authorized users.
Abstract
Background
Abnormal (keloid and hypertrophic) scars are a significant affliction with no satisfactory single modality therapy to-date. Available options are often ineffective, painful, potentially hazardous, and require healthcare personnel involvement. Herein a self-administered microneedle device based on drug-free physical contact for inhibiting abnormal scars is reported. Its therapeutic activity through microneedle contact eliminates hazards associated with toxic anti-scarring drugs while self-treatment enables administration flexibility.
Methods
The microneedle patch was fabricated with FDA-approved liquid crystalline polymer under good manufacturing practice. It was first tested to ascertain its ability to inhibit (keloid) fibroblast proliferation. Later the microneedle patch was examined on the rabbit ear hypertrophic scar model to explore its potential in inhibiting the generation of abnormal scars post-injury. Finally, the microneedle patch was applied to the caudal region of a hypertrophic scar located on a female patient's dorsum to verify clinical efficacy.
Results
On untreated control cultures, barely any non-viable fibroblasts could be seen. After 12-h treatment with the microneedle patch, the non-viable proportion increased to 83.8 ± 11.96%. In rabbit ear hypertrophic scar model, 100% of the control wounds without the presence of patches on rabbit ears generated regions of raised dermis originating from the wound site (3/3), whereas microneedle treatment prevented dermis tissue thickening in 83.33% of the wounds (15/18). In the clinical test, the microneedle patch was well tolerated by the patient. Compared to the untreated region, microneedle treatment decreased the number of infiltrated inflammatory cells, with less disrupted dermis tissue architecture and more flattened appearance.
Conclusions
A self-administered, drug-free microneedle patch appears highly promising in reducing abnormal scarring as observed from in vitro, in vivo and clinical experiments. Larger cohort clinical studies need to be performed to validate its efficacy on abnormal scars.