28.11.2018 | Glaucoma | Ausgabe 2/2019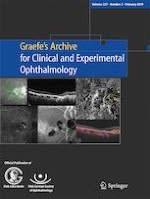 Micropulse laser trabeculoplasty on pseuodexfoliation glaucoma patients under topical prostaglandin analogue monotherapy: 1-year results
Autoren:

Olga E. Makri, Athina Pallikari, Dionysios Pagoulatos, Konstantinos Kagkelaris, Elli V. Kostopoulou, Constantinos D. Georgakopoulos
Abstract
Purpose
To evaluate the effectiveness of a single session of micropulse laser trabeculoplasty (MLT) to lower intraocular pressure (IOP) in patients with pseudoexfoliation glaucoma (PEXG).
Methods
In this single-center, one-arm, prospective study patients with PEXG under prostaglandine analogue monotherapy with inadequate IOP control were treated with 360° 532-nm MLT. Patients were evaluated at 1 day, 1 month, 3 months, 6 months, and 12 months post-MLT while they were treated with the same drug regimen as pre-MLT. Mean IOP reduction and percentage of IOP change during the follow-up were calculated. Cases that required any further intervention, like additional hypotensive medication, laser or surgical therapy, throughout the study period were considered failures and removed from the study.
Results
Twenty-seven eyes (27 patients, 17 male) were included in the study. The age of the patients was 72.37 ± 6.29 years and the baseline IOP was 20.41 ± 1.87 mmHg. Treatment with MLT resulted in significantly lower IOP at 1, 3, 6, and 12 months after MLT compared to baseline (
p
 < 0.0001 for all comparisons). By the end of the study, 52.17% of the PEXG eyes demonstrated a ≥ 20% IOP reduction compared to baseline. Four eyes (14.81%) did not respond to MLT (three eyes at 3 months and one eye at 6 months after trabeculoplasty) and were considered failures since they required additional intervention.
Conclusions
Micropulse laser trabeculoplasty appears to be an effective method to lower IOP in patients with PEXG up to 12 month of follow-up period.