01.12.2018 | Research | Ausgabe 1/2018 Open Access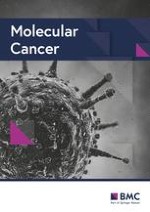 microRNA-124 inhibits bone metastasis of breast cancer by repressing Interleukin-11
Zeitschrift:
Autoren:

Wei-Luo Cai, Wen-Ding Huang, Bo Li, Tian-Rui Chen, Zhen-Xi Li, Cheng-Long Zhao, Heng-Yu Li, Yan-Mei Wu, Wang-Jun Yan, Jian-Ru Xiao
Wichtige Hinweise
Electronic supplementary material
Abstract
Background
Most patients with breast cancer in advanced stages of the disease suffer from bone metastases which lead to fractures and nerve compression syndromes. microRNA dysregulation is an important event in the metastases of breast cancer to bone. microRNA-124 (miR-124) has been proved to inhibit cancer progression, whereas its effect on bone metastases of breast cancer has not been reported. Therefore, this study aimed to investigate the role and underlying mechanism of miR-124 in bone metastases of breast cancer.
Methods
In situ hybridization (ISH) was used to detect the expression of miR-124 in breast cancer tissues and bone metastatic tissues. Ventricle injection model was constructed to explore the effect of miR-124 on bone metastasis in vivo. The function of cancer cell derived miR-124 in the differentiation of osteoclast progenitor cells was verified in vitro. Dual-luciferase reporter assay was conducted to confirm Interleukin-11 (IL-11) as a miR-124 target. The involvement of miR-124/IL-11 in the prognosis of breast cancer patients with bone metastasis was determined by Kaplan-Meier analysis.
Results
Herein, we found that miR-124 was significantly reduced in metastatic bone tissues from breast cancers. Down-regulation of miR-124 was associated with aggressive clinical characteristics and shorter bone metastasis-free survival and overall survival. Restoration of miR-124 suppressed, while inhibition of miR-124 promoted the bone metastasis of breast cancer cells in vivo. At the cellular level, gain of function and loss-of function assays indicated that cancer cell-derived miR-124 inhibited the survival and differentiation of osteoclast progenitor cells. At the molecular level, we demonstrated that IL-11 partially mediated osteoclastogenesis suppression by miR-124 using in vitro and in vivo assays. Furthermore, IL-11 levels were inversely correlated with miR-124, and up-regulation IL-11 in bone metastases was associated with a poor prognosis.
Conclusions
Thus, the identification of a dysregulated miR-124/IL-11 axis helps elucidate mechanisms of breast cancer metastases to bone, uncovers new prognostic markers, and facilitates the development of novel therapeutic targets to treat and even prevent bone metastases of breast cancer.