01.12.2018 | Research | Ausgabe 1/2018 Open Access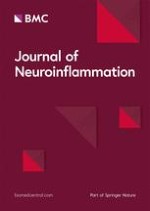 MicroRNA-124 regulates the expression of MEKK3 in the inflammatory pathogenesis of Parkinson's disease
Zeitschrift:
Autoren:

Longping Yao, Yongyi Ye, Hengxu Mao, Fengfei Lu, Xiaozheng He, Guohui Lu, Shizhong Zhang
Abstract
Background
Parkinson's disease (PD) is the most prevalent neurodegenerative disorder that is characterised by selective loss of midbrain dopaminergic (DA) neurons. Chronic inflammation of the central nervous system is mediated by microglial cells and plays a critical role in the pathological progression of PD. Brain-specific microRNA-124 (miR-124) expression is significantly downregulated in lipopolysaccharide (LPS)-treated BV2 cells and in the 1-methyl-4-phenyl-1,2,3,6-tetrahydropyridine (MPTP) model of PD. However, whether abnormal miR-124 expression could regulate the activation of microglia remains poorly understood.
Methods
BV2 cells were activated by exposure to LPS, and the expression levels of miR-124, mitogen-activated protein kinase kinase kinase 3 (MEKK3), and the nuclear factor of kappaB (NF-κB) p-p65 were analysed. Over-expression and knockdown studies of miR-124 were performed to observe the effects on MEKK3/NF-κB signalling pathways, and the induction of pro-inflammatory and neurotoxic factors was assessed. In addition, a luciferase reporter assay was conducted to confirm whether MEKK3 is a direct target of miR-124. Meanwhile, production of miR-124, MEKK3, and p-p65; midbrain DA neuronal death; or activation of microglia were analysed when treated with or without miR-124 in the MPTP-induced model of PD.
Results
We found that the knockdown of MEKK3 could inhibit the activation of microglia by regulating NF-κB expression. Over-expression of miR-124 could effectively attenuate the LPS-induced expression of pro-inflammatory cytokines and promote the secretion of neuroprotective factors. We also first identified a unique role of miR-124 in mediating the microglial inflammatory response by targeting MEKK3/NF-κB signalling pathways. In the microglial culture supernatant (MCS) transfer model, over-expression of the miR-124 or knockdown of MEKK3 in BV2 cells prevented SH-SY5Y from apoptosis and death. Moreover, MEKK3 and p-p65 were abundantly expressed in the midbrain. Furthermore, their expression levels increased and microglial activation was observed in the MPTP-induced model of PD. In addition, exogenous delivery of miR-124 could suppress MEKK3 and p-p65 expression and attenuate the activation of microglia in the substantia nigra pars compacta of MPTP-treated mice. miR-124 also could prevent MPTP-dependent apoptotic midbrain DA cell death in a MPTP-induced PD model.
Conclusions
Taken together, our data suggest that miR-124 can inhibit neuroinflammation in the development of PD by regulating the MEKK3/NF-κB signalling pathways and implicate miR-124 as a potential therapeutic target for regulating the inflammatory response in PD.