01.12.2017 | Research | Ausgabe 1/2017 Open Access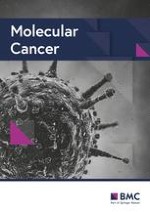 MicroRNA-1296 inhibits metastasis and epithelial-mesenchymal transition of hepatocellular carcinoma by targeting SRPK1-mediated PI3K/AKT pathway
Zeitschrift:
Autoren:

Qiuran Xu, Xin Liu, Zhikui Liu, Zhenyu Zhou, Yufeng Wang, Jianfeng Tu, Lijie Li, Hangxing Bao, Liu Yang, Kangsheng Tu
Wichtige Hinweise
Electronic supplementary material
The online version of this article (doi:
10.​1186/​s12943-017-0675-y
) contains supplementary material, which is available to authorized users.
Abstract
Background
Increasing evidences demonstrate that miRNAs contribute to development and progression of hepatocellular carcinoma (HCC). Underexpression of miR-1296 is recently reported to promote growth and metastasis of human cancers. However, the expression and role of miR-1296 in HCC remain unknown.
Methods
The levels of miR-1296 in HCC tissues and cells were detected by qRT-PCR. Immunoblotting and immunofluorescence were used for detection of epithelial-to-mesenchymal transition (EMT) progression in HCC cells. Transwell assays were performed to determine migration and invasion of HCC cells. A lung metastasis mouse model was used to evaluated metastasis of HCC in vivo. The putative targets of miR-1296 were disclosed by public databases and a dual-luciferase reporter assay.
Results
We found that the expression of miR-1296 was reduced in HCC tissues and cell lines, and it was associated with metastasis and recurrence of HCC. Notably, miR-1296 overexpression inhibited migration, invasion and EMT progress of HCCLM3 cells, while miR-1296 loss facilitated these biological behaviors of Hep3B cells in vitro and in vivo. In addition, miR-1296 inversely regulated SRPK1 abundance by directly binding to its 3′-UTR, which subsequently resulted in suppression of p-AKT. Either SRPK1 re-expression or PI3K/AKT pathway activation, at least partially, abolished the effects of miR-1296 on migration, invasion and EMT progress of HCC cells. Furthermore, miR-1296 and SRPK1 expression were markedly correlated with adverse clinical features and poor prognosis of HCC patients. We showed that hypoxia was responsible for the underexpression of miR-1296 in HCC. And the promoting effects of hypoxia on metastasis and EMT of HCC cells were reversed by miR-1296.
Conclusions
Underexpression of miR-1296 potentially serves as a prognostic biomarker in HCC. Hypoxia-induced miR-1296 loss promotes metastasis and EMT of HCC cells probably by targeting SRPK1/AKT pathway.