01.12.2017 | Research | Ausgabe 1/2017 Open Access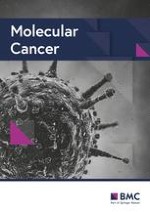 MicroRNA-1296 inhibits metastasis and epithelial-mesenchymal transition of hepatocellular carcinoma by targeting SRPK1-mediated PI3K/AKT pathway
Zeitschrift:
Autoren:

Qiuran Xu, Xin Liu, Zhikui Liu, Zhenyu Zhou, Yufeng Wang, Jianfeng Tu, Lijie Li, Hangxing Bao, Liu Yang, Kangsheng Tu
Wichtige Hinweise
Electronic supplementary material
The online version of this article (doi:
10.​1186/​s12943-017-0675-y
) contains supplementary material, which is available to authorized users.
Abbreviations
EMT
Epithelial–mesenchymal transition
qRT-PCR
Real-time quantitative reverse transcription polymerase chain reaction
SRPK1
Serine-arginine protein kinase 1
Background
Our results showed that underexpression of miR-1296 was associated with poor prognostic features of HCC patients. MiR-1296 inhibited migration, invasion and EMT progression of HCC cells in vitro and in vivo. Notably, serine-arginine protein kinase 1 (SRPK1) was identified as a direct target of miR-1296 and mediated the function of miR-1296 in HCC cells. In addition, miR-1296, SRPK1 and their combination were valuable predictors for the prognosis of HCC patients.
Methods
Clinical tissues
One hundred and twenty-six HCC tissues and matched adjacent non-tumor tissues were collected from Department of Hepatobiliary Surgery, the First Affiliated Hospital of Xi'an Jiaotong University during January 2009 to December 2011. Another cohort of ninety-eight HCC specimens were obtained from Department of Hepatobiliary Surgery, Sun Yat-Sen Memorial Hospital. Pathological diagnosis was performed according to the WHO criteria. The tissues were stored at −80 °C or embedded in paraffin. None of the patients received chemotherapy or radiotherapy before surgery. Written informed consent were obtained from all patients.
The human HCC cell lines including MHCC-97 L, HCCLM3, MHCC-97H, Huh7, Hep3B and the normal human immortalized normal hepatic cell line LO2 were purchased from the Institute of Biochemistry and Cell Biology (Chinese Academy of Sciences, Shanghai, China) and were cultured in complete Dulbecco's modified Eagle's medium (DMEM) (Invitrogen, Carlsbad, USA) containing 10% FBS (Invitrogen, Carlsbad, CA), 1% penicillin-streptomycin (Sigma, St. Louis, MO, USA) in a humidified atmosphere at 37 °C with 5% CO2.
Quantitative reverse transcriptase polymerase chain reaction (qRT-PCR)
Total RNA from HCC tissues and cells was isolated using TRIzol reagent (Invitrogen, Carlsbad, CA) according to the manufacturer's protocol. cDNA was reverse-transcribed from 2 μg total RNA using a Reverse Transcription Kit (Takara, Biochemical, Tokyo, Japan). cDNA was then amplified with a SYBR® Premix Ex Taq™ II (Perfect Real-Time) kit (Takara). The gene expression levels were calculated using the delta-delta Ct method with U6 or GAPDH as an internal control. Hsa-miR-1296 primer (HmiRQP0143), snRNA U6 qPCR Primer (HmiRQP9001), SRPK1 (HQP017724) and GAPDH (HQP006940) were purchased from Genecopoeia (Guangzhou, China).
Cell transfection
MiRNA vectors, including precursor miR-1296 clones (HmiR0471), precursor miR-1296 scrambled control clones (miR-control; CmiR0001), miR-1296 inhibitors (anti-miR-1296; HmiR-AN0143) and miR-1296 inhibitor control clones (anti-miR-NC; CmiR-AN0001) were obtained from Genecopoeia (Guangzhou, China). The SRPK1 overexpression plasmid and specific siRNA against SRPK1 and a scramble siRNA were synthesized by Sangon Biotech Co., Ltd. (Shanghai, China). Cells were transfected with above vectors using Lipofectamine 2000 Reagent (Invitrogen Life Technologies) in accordance with the manufacturer's protocol.
Western blot analysis
The whole proteins were lysed in RIPA buffer supplemented with protease and phosphatase inhibitors (Roche) and the concentrations were quantified with BCA Protein Assay Kit (Tiangen, Beijing, China), and an equal amount of 40 μg protein was separated by 10% SDS-PAGE gel and then transferred onto PVDF membranes (Millipore, Billerica, MA, USA). The membranes were blocked with 5% nonfat milk in TBST for 2 h at room temperature and incubated overnight with specific primary antibodies at 4 °C. Then the membranes were washed three times by TBST and incubated with HRP-conjugated secondary antibody for 2 h at room temperature (ZSGB-BIO, China). Detection was performed by enhanced chemiluminescence kit (Amersham, Little Chalfont, UK). GAPDH (G8140; US Biological, Swampscott, MA, USA) was used as protein loading control. The SRPK1 primary antibody was obtained from Abcam (Cambridge, MA, USA). The antibodies against E-cadherin, N-cadherin, Vimentin, AKT, p-AKT, ZO-1, ZEB1, Slug, Snail, Twist, ERBB2, CCND1 and MCM2 were purchased from Cell Signaling Technology (Beverly, MA, USA).
Immunofluorescence (IF)
HCC cells that transfected with corresponding miRNA vectors were seeded on chamber slides and were fixed with 4% paraformaldehyde for 10 min at room temperature. Then, cells were incubated with antibodies against E-cadherin (Cell Signaling Technology) or Vimentin (Cell Signaling Technology) at 4 °C overnight. Then, the slides were incubated with matched secondary antibodies (Invitrogen) at room temperature for 1 h. The nuclear of EC cells were stained with DAPI (Sigma) at room temperature for 10 min. Fluorescence confocal images were captured using a LSM 5 Pascal Laser Scanning Microscope (Zeiss Germany, Oberkochen, Germany).
Cell migration and invasion analyses
Matrigel-uncoated and -coated transwell inserts (8 μm pore size; Millipore) were used to evaluate cell migration and invasion. Briefly, 2 × 10 4 transfected cells were suspended in 150 μL serum free DMEM medium into the upper chamber, and 700 μL DMEM medium containing 20% FBS was placed in the lower chamber. After 24 h incubation, cells were fixed in 4% paraformaldehyde for 20 min and stained with 0.1% crystal violet dye for 15 min. The cells on the inner layer were softly removed with a cotton swab and counted at five randomly selected views, and the average cell number per view was calculated.
Immunohistochemistry (IHC) analysis
Briefly, 4 μm sections were deparaffinized in xylene, rehydrated through graded ethanols, followed by blocking of endogenous peroxidase activity in 3% hydrogen peroxide for 10 min at room temperature. The corresponding antibody (1:300, Cell Signaling Technology, Inc.) was applied as the primary antibody by a streptavidin peroxidase-conjugated (SP-IHC) method. The staining results were semi-quantitatively evaluated by the multiply of staining intensity and the percentage of positive staining cells. The percentage of positive cells was given into four grades: 0 for <5%; 1 for 6%–25%; 2 for 26%–50%; 3 for 51%–75% and 4 for >75%. Staining intensity was assessed by four degrees: 0, negative; 1, weak; 2, moderate; and 3, strong. Each section was assayed for ten independent high magnifications (×400) fields to get the average scores.
Luciferase reporter assay
The 3′-UTR sequence of SRPK1 predicted to interact with miR-1296, together with a corresponding mutated sequence within the predicted target sites, were synthesized and inserted into the pmiR-GLO dual-luciferase miRNA target expression vector (Promega, Madison, WI, USA) called wt-SRPK1 3′-UTR and mt-SRPK1 3′-UTR. Subsequently, HCCLM3 or Hep3B cells that were plated into 24-well plate and were transfected with corresponding vectors. Cells were co-transfected with the wild-type or mutant 3′-UTR of SRPK1 vector using the Lipofectamine 2000 reagent (Invitrogen, USA). After 48 h, cells were harvested and measured according to the manufacturer's instructions (Dual-Luciferase Assay System; Promega). pRL-TK expressing Renilla luciferase was cotransfected as an internal control to correct the differences in both transfection and harvest efficiencies.
In vivo experiments
4–6 week-old female BALB/c nude mice (Centre of Laboratory Animals, The Medical College of Xi'an Jiaotong University, Xi'an, China) were randomized into two groups (
n
= 5), and either HCCLM3-miR-1296 or HCCLM3-miR-control cells (1 × 10
6
); Hep3B-anti-miR-1296 or Hep3B-anti-miR-NC were injected into the tail veins for the establishments of pulmonary metastatic model. Mice were sacrificed 10 weeks' post injection and examined microscopically by hematoxylin and eosin (H&E) staining for the development of lung metastatic foci. Animals were housed in cages under standard conditions. The protocols for these animal experiments were approved by the Ethics Review Committee of Xi'an Jiaotong University.
Statistical analysis
Data are presented as the mean ± SD and performed at least three independent replicates. SPSS software, 16.0 (SPSS, Inc., Chicago, IL, USA) and Graphpad Prism 6.0 (CA, USA) were used for a two-tailed Student t-test, Pearson's correlation analysis, Kaplan-Meier method and the log-rank test to evaluate the statistical significance. Differences were defined as
P
< 0.05.
Results
Discussion
It's necessary to confirm whether miR-1296 and SRPK1 could serve as valuable biomarkers for diagnosis and prognostic prediction. Here, we found that both low expression of miR-1296 and high level of SRPK1 were significantly associated with adverse clinical features of HCC patients. In addition, we confirmed that miR-1296 underexpression and SRPK1 overexpression as well as their combination were obviously correlated with poor prognosis of HCC patients. These results suggest that miR-1296 and SRPK1 may be promising predictors for the prognosis of HCC patients.
In conclusion, we demonstrate for the first time that miR-1296 is underexpressed in HCC tissues and cell lines, and its reduced expression is correlated with malignant clinicopathological features. Furthermore, we confirm that miR-1296 inhibits migration, invasion and EMT process of HCC cells probably by directly targeting SRPK1-mediated PI3K/AKT pathway. Notably, miR-1296 underexpression, SRPK1 overexpression and their combination are potential prognostic predictors for the survival of HCC patients. Moreover, hypoxia is a key cause for miR-1296 underexpression in HCC cells. In summary, the deregulation of miR-1296 may play an important role in tumor metastasis and may be a novel prognostic factor and potential therapeutic target for HCC.
Conclusions
To conclude, we recognize miR-1296 underexpression as a biomarker for predicting poor prognosis of HCC patients. The hypoxia-induced miR-1296 loss creates a milieu of metastasis facilitation that plays a promoting role in HCC progression. A mechanism by which miR-1296 inhibits EMT and metastasis probably by targeting SRPK1-mediated PI3K/AKT pathway plays an important role in this process. This finding will improve understanding of mechanism involved in cancer progression and provide novel targets for the molecular treatment of HCC.
Acknowledgements
Not applicable.
Funding
This study was supported by grants from the National Natural Science Foundation of China (81,402,039, 81,502,092, 81,602,179); the Natural Science Basic Research Plan in Shaanxi Province of China (2016JQ8047); the Zhejiang Provincial Natural Science Foundation of China (LY16H160043); and the Open Foundation from Key Laboratory of Tumor Molecular Diagnosis and Individualized Medicine of Zhejiang Province (ZJZLSYS002).
Availability of data and materials
All data generated or analyzed during this study are included either in this article or in the Additional files.
Authors' contributions
QX and KT conceived and designed the experiments; QX, XL, ZL, ZZ and YW performed the experiments; JT and LL analyzed the data; HB and LY contributed reagents/materials/analysis tools; QX, ZL and KT wrote the paper. All authors read and approved the final manuscript.
Competing interests
The authors declare that they have no competing interests.
Consent for publication
Not applicable.
Ethics approval and consent to participate
All procedures performed in studies involving human participants were in accordance with the ethical standards of the Research Ethics Committee of The First Affiliated Hospital of Xi'an Jiaotong University and with the 1964 Helsinki declaration and its later amendments. ALL written informed consent to participate in the study was obtained from HCC patients for samples to be collected from them.
Open Access
This article is distributed under the terms of the Creative Commons Attribution 4.0 International License (
http://​creativecommons.​org/​licenses/​by/​4.​0/​
), which permits unrestricted use, distribution, and reproduction in any medium, provided you give appropriate credit to the original author(s) and the source, provide a link to the Creative Commons license, and indicate if changes were made. The Creative Commons Public Domain Dedication waiver (
http://​creativecommons.​org/​publicdomain/​zero/​1.​0/​
) applies to the data made available in this article, unless otherwise stated.