01.12.2017 | Research | Ausgabe 1/2017 Open Access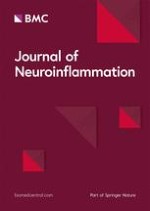 MicroRNA-142 regulates inflammation and T cell differentiation in an animal model of multiple sclerosis
Zeitschrift:
Autoren:

Farideh Talebi, Samira Ghorbani, Wing Fuk Chan, Roobina Boghozian, Farimah Masoumi, Sedigheh Ghasemi, Mohammed Vojgani, Christopher Power, Farshid Noorbakhsh
Wichtige Hinweise
Electronic supplementary material
The online version of this article (doi:
10.​1186/​s12974-017-0832-7
) contains supplementary material, which is available to authorized users.
Abstract
Background
MicroRNAs have emerged as an important class of modulators of gene expression. These molecules influence protein synthesis through translational repression or degradation of mRNA transcripts. Herein, we investigated the potential role of miR-142a isoforms, miR-142a-3p and miR-142a-5p, in the context of autoimmune neuroinflammation.
Methods
The expression levels of two mature isoforms of miR-142 were measured in the brains of patients with multiple sclerosis (MS) and the CNS tissues from mice with experimental autoimmune encephalomyelitis (EAE), an animal model of MS. Expression analyses were also performed in mitogen and antigen-stimulated splenocytes, as well as macrophages and astrocytes using real-time RT-PCR. The role of the mature miRNAs was then investigated in T cell differentiation by transfection of CD4+ T cells, followed by flow cytometric analysis of intracellular cytokines. Luciferase assays using vectors containing the 3′UTR of predicted targets were performed to confirm the interaction of miRNA sequences with transcripts. Expression of targets were then analyzed in activated splenocytes and MS/EAE tissues.
Results
Expression of miR-142-5p was significantly increased in the frontal white matter from MS patients compared with white matter from non-MS controls. Likewise, expression levels of miR-142a-5p and miR-142a-3p showed significant upregulation in the spinal cords of EAE mice at days 15 and 25 post disease induction. Splenocytes stimulated with myelin oligodendrocyte glycoprotein (MOG) peptide or anti-CD3/anti-CD28 antibodies showed upregulation of miR-142a-5p and miR-142a-3p isoforms, whereas stimulated bone marrow-derived macrophages and primary astrocytes did not show any significant changes in miRNA expression levels. miR-142a-5p overexpression in activated lymphocytes shifted the pattern of T cell differentiation towards Th1 cells. Luciferase assays revealed SOCS1 and TGFBR1 as direct targets of miR-142a-5p and miR-142a-3p, respectively, and overexpression of miRNA mimic sequences suppressed the expression of these target transcripts in lymphocytes. SOCS1 levels were also diminished in MS white matter and EAE spinal cords.
Conclusions
Our findings suggest that increased expression of miR-142 isoforms might be involved in the pathogenesis of autoimmune neuroinflammation by influencing T cell differentiation, and this effect could be mediated by interaction of miR-142 isoforms with SOCS1 and TGFBR-1 transcripts.