01.12.2016 | Research | Ausgabe 1/2016 Open Access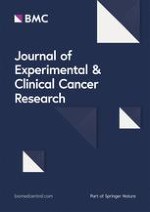 MicroRNA-155-3p promotes hepatocellular carcinoma formation by suppressing FBXW7 expression
Zeitschrift:
Autoren:

Bo Tang, Biao Lei, Guangying Qi, Xingsi Liang, Fang Tang, Shengguang Yuan, Zhenran Wang, Shuiping Yu, Songqing He
Abstract
Background
MicroRNAs (miRNAs) are small non-coding RNAs frequently dysregulated in human malignant tumors. In the present study, we analyzed the role miR-155-3p plays in Hepatocellular carcinoma (HCC), which has been reported participation in some other types of cancer.
Methods
qRT-PCR was used to measure the levels of miR-155-3p in HCC specimens and HCC cell lines. Overexpression of miR-155-3p and miR-155-3p inhibitor were transfected into HCC cell lines to investigate its role in HCC. Colony formation assay and 3-(4, 5-dimethylthiazol-2-yl)-2,5-diphenyltetrazolium (MTT) assays were used to analyses cell proliferation in vitro. In vivo tumor formation assays were performed in BALB/c nude mice. Luciferase reporter assay was carried out to measure the translation of F-Box and WD repeat romain containing 7 (FBXW7).
Results
We found that miR-155-3p was remarkably upregulated both in HCC tissue and cell lines. Overexpression of miR-155-3p enhanced HCC cell proliferation in vitro and tumorigenesis in vivo. In addition, overexpression of miR-155-3p is correlated with decreased levels FBXW7 mainly through inhibiting the expression of FBXW7.
Conclusions
Our studies suggest that miR-155-3p plays an important role in the pathogenesis of HCC and implicates its potential applications in the treatment of HCC cancer.