01.12.2017 | Research | Ausgabe 1/2017 Open Access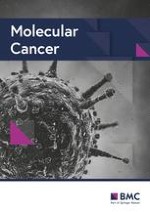 MicroRNA-218 functions as a tumor suppressor in lung cancer by targeting IL-6/STAT3 and negatively correlates with poor prognosis
Zeitschrift:
Autoren:

Yan Yang, Lili Ding, Qun Hu, Jia Xia, Junjie Sun, Xudong Wang, Hua Xiong, Deepak Gurbani, Lianbo Li, Yan Liu, Aiguo Liu
Wichtige Hinweise
Electronic supplementary material
The online version of this article (doi:
10.​1186/​s12943-017-0710-z
) contains supplementary material, which is available to authorized users.
Abstract
Background
Aberrant expression of microRNAs in different human cancer types has been widely reported. MiR-218 acts as a tumor suppressor in diverse human cancer types impacting regulation of multiple genes in oncogenic pathways. Here, we evaluated the expression and function of miR-218 in human lung cancer and ALDH positive lung cancer cells to understand the potential mechanisms responsible for disease pathology. Also, the association between its host genes and the target genes could be useful towards the better understanding of prognosis in clinical settings.
Methods
Publicly-available data from The Cancer Genome Atlas (TCGA) was mined to compare the levels of miR-218 and its host gene
SLIT2/3
between lung cancer tissues and normal lung tissues. Transfection of miR-218 to investigate its function in lung cancer cells was done and in vivo effects were determined using miR-218 expressing lentiviruses. Aldefluor assay and Flow cytometry was used to quantify and enrich ALDH positive lung cancer cells. Levels of miR-218, IL-6R, JAK3 and phosphorylated STAT3 were compared in ALDH1A1 positive and ALDH1A1 negative cells. Overexpression of miR-218 in ALDH positive cells was carried to test the survival by tumorsphere culture. Finally, utilizing TCGA data we studied the association of target genes of miR-218 with the prognosis of lung cancer.
Results
We observed that the expression of miR-218 was significantly down-regulated in lung cancer tissues compared to normal lung tissues. Overexpression of miR-218 decreased cell proliferation, invasion, colony formation, and tumor sphere formation in vitro and repressed tumor growth in vivo. We further found that miR-218 negatively regulated IL-6 receptor and JAK3 gene expression by directly targeting the 3′-UTR of their mRNAs. In addition, the levels of both miR-218 host genes and the components of IL-6/STAT3 pathway correlated with prognosis of lung cancer patients.
Conclusions
MiR-218 acts as a tumor suppressor in lung cancer via IL-6/STAT3 signaling pathway regulation.