01.12.2018 | Research | Ausgabe 1/2018 Open Access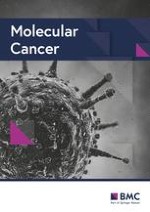 MicroRNA-494 promotes cancer progression and targets adenomatous polyposis coli in colorectal cancer
Zeitschrift:
Autoren:

Ying Zhang, Lu Guo, Yuhuan Li, Gui-Hai Feng, Fei Teng, Wei Li, Qi Zhou
Abstract
Background
Aberrant activation of the Wnt/β-catenin signaling pathway is frequently observed in colorectal cancer (CRC). β-catenin is the major Wnt signaling pathway effector and inactivation of adenomatous polyposis coli (APC) results in nuclear accumulation of β-catenin. It has been suggested that inactivation of APC plays an important role in activation of the Wnt/β-catenin pathway and in the progression of colorectal tumorigenesis. However, the mechanism through which APC mediates colorectal tumorigenesis is not understood. Increasing evidence suggests that the dysregulation of microRNAs (miRNAs) is involved in colorectal tumorigenesis. Although miR-494 has been reported as being an upregulated miRNA, the interplay between miR-494 and APC-mediated colorectal tumorigenesis progression remains unclear.
Methods
The expression of miR-494 in tissues from patients diagnosed with CRC was analyzed using a microarray and real-time PCR. The effects of miR-494 on cell proliferation and tumorigenesis in CRC cells were analyzed by flow cytometry, colony formation assays, BrdU incorporation assays, and CCK8 assays. The correlation between miR-494 expression and APC expression, as well as the mechanisms by which miR-494 regulates APC in CRC were also addressed.
Results
miR-494 was significantly upregulated in CRC tissues, and this increase was negatively associated with APC expression. APC was confirmed to be a direct target of miR-494 in CRC. Furthermore, overexpression of miR-494 induced Wnt/β-catenin signaling by targeting APC, thus promoting CRC cell growth.
Conclusions
This study provides novel insights into the role of miR-494 in controlling CRC cell proliferation and tumorigenesis, and identifies miR-494 as a potential prognostic marker and therapeutic target.