01.12.2012 | Research | Ausgabe 1/2012 Open Access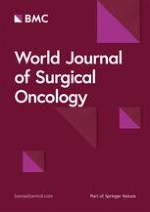 MicroRNA expression in ovarian carcinoma and its correlation with clinicopathological features
Zeitschrift:
Autoren:

Heejeong Lee, Chul Soo Park, Georgios Deftereos, Janice Morihara, Joshua E Stern, Stephen E Hawes, Elizabeth Swisher, Nancy B Kiviat, Qinghua Feng
Wichtige Hinweise
Electronic supplementary material
The online version of this article (doi:
10.​1186/​1477-7819-10-174
) contains supplementary material, which is available to authorized users.
Competing interests
The authors have no commercial or other associations that might pose a conflict of interest.
Authors' contributions
HL, CP, GD, and JM conducted the experiments and HL drafted the manuscript. JS analyzed the data and SH assisted in the manuscript preparation. ES provided HOSE cell lines and assisted during the experiments and in the manuscript preparation. NK and QF conceptualized, edited, and revised the manuscript. All authors have read and approved the final manuscript.
Abstract
Background
MicroRNA (miRNA) expression is known to be deregulated in ovarian carcinomas. However, limited data is available about the miRNA expression pattern for the benign or borderline ovarian tumors as well as differential miRNA expression pattern associated with histological types, grades or clinical stages in ovarian carcinomas. We defined patterns of microRNA expression in tissues from normal, benign, borderline, and malignant ovarian tumors and explored the relationship between frequently deregulated miRNAs and clinicopathologic findings, response to therapy, survival, and association with Her-2/neu status in ovarian carcinomas.
Methods
We measured the expression of nine miRNAs (miR-181d, miR-30a-3p, miR-30c, miR-30d, miR-30e-3p, miR-368, miR-370, miR-493-5p, miR-532-5p) in 171 formalin-fixed, paraffin-embedded ovarian tissue blocks as well as six normal human ovarian surface epithelial (HOSE) cell lines using Taqman-based real-time PCR assays. Her-2/neu overexpression was assessed in ovarian carcinomas (n = 109 cases) by immunohistochemistry analysis.
Results
Expression of four miRNAs (miR-30c, miR-30d, miR-30e-3p, miR-370) was significantly different between carcinomas and benign ovarian tissues as well as between carcinoma and borderline tissues. An additional three miRNAs (miR-181d, miR-30a-3p, miR-532-5p) were significantly different between borderline and carcinoma tissues. Expression of miR-532-5p was significantly lower in borderline than in benign tissues. Among ovarian carcinomas, expression of four miRNAs (miR-30a-3p, miR-30c, miR-30d, miR-30e-3p) was lowest in mucinous and highest in clear cell samples. Expression of miR-30a-3p was higher in well-differentiated compared to poorly differentiated tumors (
P
 = 0.02), and expression of miR-370 was higher in stage I/II compared to stage III/IV samples (
P
 = 0.03). In multivariate analyses, higher expression of miR-181d, miR-30c, miR-30d, and miR-30e-3p was associated with significantly better disease-free or overall survival. Finally, lower expression of miR-30c, miR-30d, miR-30e-3p and miR-532-5p was significantly associated with overexpression of Her-2/neu.
Conclusions
Aberrant expression of miRNAs is common in ovarian tumor suggesting involvement of miRNA in ovarian tumorigenesis. They are associated with histology, clinical stage, survival and oncogene expression in ovarian carcinoma.