27.09.2016 | Original Paper | Ausgabe 2/2017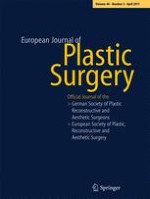 Microsurgical flaps in the treatment of thoracic radionecrosis: a case series
Zeitschrift:
Autoren:

Valentin Yuste, Julio Delgado, Javier Garcia-Tirado, Fernando Albiñana, Javier Rodrigo
Abstract
Background
Radionecrosis of the thoracic wall is a late complication of radiotherapy mainly found in breast cancer patients. During the treatment of severe thoracic radionecrosis, the aggressive ablation of a large amount of damaged tissue is fundamental, making the use of healthy remote tissue provided by a free flap essential. However, most of the papers focusing in the reconstruction of this entity are dated or case reports. This article is intended to present the utility and results of reconstructive microsurgical techniques in these patients.
Methods
We carried out a retrospective review of the patients who underwent microsurgical reconstruction of extensive thoracic defects associated with radionecrosis in the period 2007 to 2012 in our centre. The variables studied were sex, age, size of the lesion, type of reconstructive procedure used, the postoperative evolution of the flap and the donor area, and the length of the hospital stay.
Results
Four patients with extensive thoracic defects associated with radionecrosis were included. After debridement, bone reconstruction was performed using a polytetrafluorethylene mesh, while soft tissue reconstruction was achieved using a free flap. One of the patients was reconstructed with a deep inferior epigastric perforator free (DIEP) flap and the rest with transverse myocutaneous gracilis (TMG) free flap. No flap-related complications were observed during the postoperative period.
Conclusions
The effects of radiation on soft tissues and bones are the cause of the increasing complexity of thoracic reconstruction
.
We believe that the use of free flaps to provide large amounts of tissue or cover particularly problematic areas can be an extremely useful tool for these patients.
Level of Evidence: Level V, therapeutic study.