19.06.2017 | Original Paper | Ausgabe 2/2018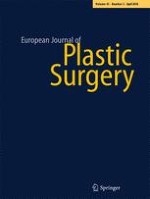 Microsurgical reconstruction of pharyngoesophageal defects—case series and critical review of the literature
Zeitschrift:
Autoren:

Sara Cunha, Horácio Zenha, Diana Santos, Carolina Andresen, Tiago Guedes, Susana Graça, Carlos Soares, Antónia Póvoas, Jorge Maciel, Horácio Costa
Abstract
Background
The reconstructive goals after laryngopharyngoesophagectomy are the reestablishment of the digestive conduit, achievement of adequate swallowing, and voice restoration. The pharyngoesophageal segment is typically reconstructed with a jejunal or a fasciocutaneous free flap. The gastro-omental free flap offers unique advantages in high-risk surgical fields. The best reconstructive option is still a matter of controversy. A retrospective study was conducted to assess the morbidity and functional results of microsurgical pharyngoesophageal reconstructions performed at our institution in the last 16 years and compare them with the literature.
Methods
A retrospective review was conducted on patients who underwent pharyngoesophageal microsurgical reconstruction between 1999 and 2016 at a single institution. The perioperative morbidity, mortality, and functional outcomes were evaluated and compared with similar published case series.
Results
A total of 14 free flap reconstructions were performed, after pharyngolaryngoesophagectomy or pharyngoesophageal radionecrosis. Patients received jejunal, radial forearm, gastro-omental, or anterolateral thigh flaps. There was one flap failure and one perioperative death. The rates of stricture and fistula were 8.3 and 16.7%, respectively. Oral diet was achieved in all patients and 71% have been considered to have an intelligible speech. At 1-year post-op, 71.4% of the patients were alive and the 3-year survival rate was 35.7%.
Conclusions
The reconstruction of the pharyngoesophageal segment requires safe, reliable, and functional single-stage solutions. Fasciocutaneous flaps seem to provide better functional results and allow a shorter hospital stay, while enteric flaps appear to be more reliable in adverse surgical fields.
Level of Evidence: Level IV, therapeutic study.