09.12.2019 | Hip Arthroplasty | Ausgabe 2/2020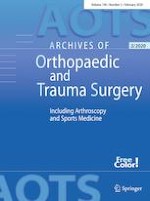 Mid-term results after revision total hip arthroplasty with custom-made acetabular implants in patients with Paprosky III acetabular bone loss
Zeitschrift:
Autoren:

F. S. Fröschen, T. M. Randau, G. T. R. Hischebeth, N. Gravius, S. Gravius, S. G. Walter
Wichtige Hinweise
Publisher's Note
Springer Nature remains neutral with regard to jurisdictional claims in published maps and institutional affiliations.
Abstract
Introduction
Severe acetabular bone loss, both with or without pelvic discontinuity, remains a challenge in revision total hip arthroplasty (RTHA). The goal of our study was to evaluate the mid-term results for consecutive patients with Paprosky III acetabular bone loss with or without pelvic discontinuity who needed RTHA with custom-made acetabular implants and to compare the results to those of other studies
.
Materials and methods
Sixty-eight (68) patients with severe acetabular bone loss (Paprosky Type IIIa and IIIb), who required RTHA, were included in our study. All prostheses were constructed on the basis of thin-layer computed tomography (CT) scans of the pelvis. The visual analogue scale (VAS), Harrison hip score (HHS), and clinical and radiographic follow-up assessments were used to evaluate the outcome.
Results
The average follow-up time was 43 months (range 1–120 months). Implant survival at last follow-up was 75% (51 of 68). Kaplan–Meier survival analysis, with explantation as the endpoint, revealed survival rates of 82.7% (3 years) and 77% (5 years). Patients with revision of the acetabular component only had a significant higher survival rate (
p
0.012). Overall revision rate was 36.7%. Reinfection rate was 34.4%. Complications included 15 (22%) periprosthetic joint infections (PJI), 7 dislocations (10.2%), and 2 aseptic loosenings (2.9%). Mean VAS at last follow-up was 1.45 compared to 3.2 preoperatively, while mean HHS improved from 21.1 points preoperatively to 61 at last follow-up. The change in both scores was thus significant (
p
 < 0.001).
Conclusion
Defect reconstruction with custom-made modular acetabular implants can be a good, nevertheless expensive, treatment option with clinically and radiologically satisfying results in comparison to recent studies in the literature. Nevertheless, high postoperative complication rates, especially in terms of PJI, remain a challenge.