01.12.2012 | Research article | Ausgabe 1/2012 Open Access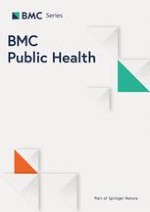 Migrant health in French Guiana: Are undocumented immigrants more vulnerable?
Zeitschrift:
Autoren:

Anne Jolivet, Emmanuelle Cadot, Sophie Florence, Sophie Lesieur, Jacques Lebas, Pierre Chauvin
Wichtige Hinweise
Electronic supplementary material
The online version of this article (doi:
10.​1186/​1471-2458-12-53
) contains supplementary material, which is available to authorized users.
Competing interests
The authors declare that they have no competing interests.
Authors' contributions
PC and JL conceived this study and supervised all the aspects of its realisation and dissemination. AJ was involved in the study design, data collection and data analysis. SF and EC were involved in the study design. All the authors approved the final manuscript
Background
A growing body of studies suggests that there are health disparities between immigrants and local populations [
1
–
4
]. Despite growing knowledge, the relationship between migration and health remains complex and dynamic, for many migration-related determinants can have an impact on health [
3
]. French studies, too, have reported that disparities in health outcomes exist between immigrants and native-born individuals [
5
–
8
], although such studies are rare in France, where categorizing people as immigrants is viewed as a sensitive issue and is governed by strict legal rules.
French Guiana is located in a humid equatorial zone of South America, between Brazil to the southeast and Surinam to the northwest. A former French colony, French Guiana became, in 1946, a French overseas territory, with the same legislation as in mainland France. French Guiana has a multiethnic population, the result of successive migration waves. Up until the early 1960s, the history of French Guiana was characterized by problematic and insufficient human settlement (in 1954, the population was still only 27,000, over an area of 83,350 km
2
, essentially Creoles, Amerindians and Bushinenge). It subsequently attracted a great deal of foreign labour enticed by a job market that had become attractive with the creation of the Guiana Space Centre and the launch of large infrastructure projects. In the 1970s and 1980s, it took in a large number of migrants fleeing from the political instability and economic hardships in their countries: political turmoil in Haiti, a civil war in Surinam (1986-1992), and social and economic problems in Guyana. French Guiana has been going through a major economic crisis since the 1990s, with a high unemployment rate (20.6% of the active population in 2006), a huge trade deficit and heavy economic dependence on public transfers [
9
]. Despite this economic crisis and increasingly restrictive immigration policies, there is still significant migratory pressure. In 2009, this department had 229,000 inhabitants, 29.5% of whom were immigrants [
9
]. There are few data on the health of this immigrant population.
The objective of this article is to analyze health disparities between immigrants and native-born people in light of several migratory characteristics (the immigrants' legal status, their duration of residence in French Guiana, and their country of origin).
Methods
Study design
A representative, population-based, cross-sectional survey was conducted in French Guiana's two largest cities: Cayenne and Saint-Laurent du Maroni, which had 58,004 and 33,707 inhabitants, respectively, as at January 1, 2006 [
9
]. The target population consisted of the resident adult population (≥ 18 years), "resident" meaning having lived or intending to live in either of these two cities for at least 6 months.
A four-stage random sample was constituted. The objective was to conduct 600 interviews in Cayenne and 400 in Saint-Laurent du Maroni (in order to respect the population ratio between the two cities) and to interview 60 people per neighbourhood. These neighbourhoods constitute an intermediate aggregated geographical level between residential IRIS [
10
] (IRIS, a French acronym for "blocks for incorporating statistical information", are aggregated census blocks) and census blocks. First, 10 neighbourhoods were selected from the 34 neighbourhoods in Cayenne (which has 25 IRIS) and 7 were selected from the 17 in Saint-Laurent du Maroni (10 IRIS) in proportion to the number of households (according to the 2009 census), and they were stratified according to whether or not they are designated as "underserved neighbourhoods" by French urban public policies (Figure
1
). Second, in each neighbourhood, census blocks were selected proportionally to the number of households. In all, 40 census blocks were randomly selected from the 474 eligible census blocks in Cayenne, and 25 were randomly selected from the 160 in Saint-Laurent du Maroni. Subsequently, households were randomly selected using a sampling interval calculated for each block in proportion to the number of households in that block (the sampling interval varied between 1 and ¼). Lastly, one adult within each household was randomly selected by the interviewer. The questionnaire was administered face-to-face at the individuals' residences by local, multilingual interviewers from February to April 2009. This survey did not fall into the category of biomedical research (as defined by French law) and did not collect any personal identification data. Therefore it did not need ethical approval in France. On the other hand, it has been approved by the Department of research of the Agence française de développement (AFD).
×
Data collection
Health status
We used the three health-related questions from the Mini European Health Module (MEHM) that concern self-assessed health, chronic diseases and functional limitations [
11
,
12
]:
•
Self-assessed health
was based on the question, "How would you describe your general health?", to which the possible answers were "very good", "good", "fair", "poor" and "very poor". This indicator was dichotomised between the individuals who assessed their overall health as very poor, poor or fair and those who assessed it as good or very good.
•
Chronic disease status
was assessed by the question, "Do you have any longstanding illness or longstanding health problem?", "longstanding" referring to illnesses or health problems that had lasted or were expected to last for 6 months or longer.
•
Functional limitations
were assessed by the question, "For at least the past six months, have you been limited because of a health problem in activities people usually do?"
Migration variables
Three variables were examined:
1)
Migration status
was defined on the basis of four variables: the country of birth, nationality at birth, nationality on the day of the interview and, for those of foreign nationality, their legal status on the day of the interview. Six migration statuses were thus defined:
- Native-born French. Applies to people of French nationality born in French Guiana. They were chosen as the reference category.
- Born French outside French Guiana (in mainland France, another French overseas territory or abroad). Such individuals were differentiated from the previous group in that they constitute a special subgroup (migration is often temporary, and they often enjoy a privileged socioeconomic status).
- Naturalized immigrant. Applies to people who had acquired French citizenship.
- Long-term documented immigrant. Applies to migrants of foreign nationality who had a 10-year French territory residence card. The few citizens of the European Union were included in this subgroup.
- Temporary documented immigrant. Applies to migrants of foreign nationality with a 1-year temporary stay document, authorization for a temporary stay (usually 6 months) or, more rarely, a refugee claim in progress.
- Undocumented immigrants. Applies to migrants of foreign nationality who had no valid stay document on the day of the interview.
Immigrants (born non-French abroad) are therefore represented by the last four categories.
2)
Duration of residence
. In addition, immigrants were classified into two groups according to their duration of residence in French Guiana: ≤ 5 years (recent immigrant) or > 5 years (established immigrant).
3)
Country of birth
. In light of the sample size limitations, the analyses concerned only the two main groups of immigrants: those born in Haiti and those born in Surinam.
Covariables
The demographic variables included
gender
and
age
. Median age and the interquartiles were calculated for the description of the population, and four categories ([18-30 years], [30-40 years], [40-50 years] and > 50 years) were used in logistic regression models.
Socioeconomic status was characterized by three variables:
education level
, of which there were three categories (none or primary, secondary and tertiary);
occupational status
, which was categorized as civil servant, upper white-collar, lower white-collar, blue-collar (including farmer), unemployed, housewife, student, retired, and inactive; and
perceived financial situation
. The latter was assessed by a question put to the head of the household ("Presently, for this household, would you say that financially..."), for which there were five possible answers ("We don't have enough to live on; we can't get by.", "We have just enough to live on, but we go without a lot of things", "We have enough to live on as long as we're careful.", "We aren't lacking for anything important.", and "We don't go without anything at all; we're very well off."). This variable was divided into three categories: good (the last two answers), fair and poor (the first two answers). Lastly, two binary psychosocial variables were taken into account. One was
fluency in French
(fluent in French, with no difficulty or with some difficulty, versus not fluent in French at all, with a great deal of difficulty). This variable provided an indication of acculturation to French society. The other one was
feeling of loneliness
, which was assessed by the question, "In general, would you say that you...?" ("have a very good circle of people around you" or "have a fairly good circle of people around you" versus "feel fairly alone" or "very alone").
Statistical analyses
All of the following analyses were weighted in order to account for the sample design and the poststratification adjustment for age, gender and citizenship status (French or foreigner) according to the general population census performed in 2006 by the Institut National de la Statistique et des Études Économiques (the French Bureau of Statistics).
First, we described and compared the demographic characteristics, socioeconomic conditions and health status of the migration status subgroups using a chi-square test. The comparisons of the median durations of residence and age used the nonparametric test of Kruskal-Wallis. Second, we performed logistic regression models, which were systematically adjusted for age and gender, to estimate the associations between the above-mentioned covariables and each of the three health status variables. Third, we compared the odds ratio (OR) estimating the strength of the association between each of the three migration variables and each of the three health status variables separately when successively adding the covariables to the respective models. Fourth, we constructed a new variable - migration status and origin - that combined the undocumented immigrants' migration status and country of birth, and, in the same manner as in step 3, we determined whether the covariables contributed to the associations observed between this migration status-and-origin variable and each of the three health status variables. All the analyses were performed with Stata® software, version 10.0.
Results
All comparisons used Chi2 Test, except comparisons of ages and durations of residence, which used the Kruskal-Wallis test
Discussion
To the best of our knowledge, this study is the first one carried out in French Guiana that describes and analyzes social and health disparities in specific populations on the basis of their origins and migration status. This study shows that these two cities have large immigrant populations (40.5% of the adult population in Cayenne and 57.8% in Saint-Laurent du Maroni) and that many of these individuals' had been there for long while (60.7% of the immigrants living in Cayenne and 77.5% in Saint-Laurent du Maroni had been living there for more than 10 years). Despite this long duration of residence in French Guiana, a substantial portion of the immigrant population had no stay documents or had a precarious status. An analysis of the population's social and economic conditions shows strong inequalities that follow a gradient according to the individual's legal status with regard to his or her stay. The analyses showed that the health of these populations depends on several migration-related factors, but also on how health is measured. Three key findings are noted. First, in general, of all the subgroups of migrants that were studied, those most vulnerable and with the worst health status were those who were undocumented, regardless of which social and health indicators were considered. Second, when health was measured as perceived health, the analyses showed that the undocumented immigrants and the documented immigrants with a precarious status (with a stay document valid for one year or less) reported poorer perceived health than the native-born. The country of origin and the duration of residence did not change these results very much. These observed associations are only partially explained by the individuals' socioeconomic status. Third, with regard to functional limitations, certain groups of immigrants (recent immigrants and those born in Haiti) reported a more favourable situation than the native-born for a comparable socioeconomic status.
Conclusion
Overall, the results of this study suggest that, although the determinants of migrant health in French Guiana mainly have to do with the multiple dimensions of the social determinants of health and social health inequalities, other parameters specific to immigration (the country of origin, the duration of residence, the reason for immigrating, and the conditions of residence in French Guiana) play a role of their own. Data on migrant health are scarce in France, and more generally, migrant health problems have been largely ignored in public health policies. Indeed, the notion of a "specific approach" to health issues is creating a debate. Any differential treatment, in particular, according to nationality or ethnic group, is generally perceived as wrong, since it is contrary to the principle of equal treatment for all citizens guaranteed by the Constitution and that is part of a long republican tradition. In reality, such a view shows a lack of understanding, all the while contributing to the denial of the problems specific to immigrants. We recommend that the specific determinants associated with migration be taken into account in different epidemiological surveys and the current local information systems to improve knowledge of the health of specific populations in French Guiana. The health status of migrants is of crucial interest to health policy planners, and it is especially relevant, considering the size of the foreign-born population in that region.
Acknowledgements
The study was funded by the Agence française de développement (AFD) within the framework of a collaborative contract with INSERM. The AFD did not participate in the writing of this article. The authors would like to thank the INSEE Office in Cayenne for their assistance in constructing the sample.
This article is published under license to BioMed Central Ltd. This is an Open Access article distributed under the terms of the Creative Commons Attribution License (
http://​creativecommons.​org/​licenses/​by/​2.​0
), which permits unrestricted use, distribution, and reproduction in any medium, provided the original work is properly cited.
Competing interests
The authors declare that they have no competing interests.
Authors' contributions
PC and JL conceived this study and supervised all the aspects of its realisation and dissemination. AJ was involved in the study design, data collection and data analysis. SF and EC were involved in the study design. All the authors approved the final manuscript