01.12.2017 | Case report | Ausgabe 1/2017 Open Access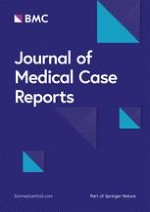 Migratory large vessel vasculitis preceding acute myeloid leukemia: a case report
Zeitschrift:
Autoren:

Dinusha Chandratilleke, Anthea Anantharajah, Mauro Vicaretti, Warwick Benson, Lucinda J. Berglund
Abstract
Background
Large vessel vasculitis is a rare disorder usually occurring in the context of the autoimmune conditions of giant cell arteritis and Takayasu's arteritis. Case reports have described large vessel vasculitis occurring in individuals with myelodysplastic syndrome, preceding transformation to acute myeloid leukemia.
Case presentation
A 56-year-old Afghanistan-born woman presented with fever, a tender left carotid artery, and raised inflammatory markers. Computed tomography revealed thickening of the wall of her left carotid artery. Her symptoms resolved spontaneously; however, they recurred weeks later on the contralateral side, along with abdominal pain after eating. Further imaging with computed tomography and positron emission tomography demonstrated resolution of her left carotid artery abnormality, but new wall thickening and inflammation in her right carotid artery, abdominal aorta, and superior mesenteric artery. She was diagnosed as having large vessel vasculitis, which resolved with corticosteroids and methotrexate. Five months later, she developed acute myeloid leukemia. She had no known history of myelodysplastic syndrome at the time of diagnosis with vasculitis.
Conclusions
Large vessel vasculitis in older individuals presenting with atypical clinical features, such as a migratory pattern of affected vessels, vessel wall tenderness, and marked systemic inflammation, should prompt a search for underlying myelodysplasia. Clinicians should be vigilant for progression to acute myeloid leukemia.