20.11.2017 | Review Article | Sonderheft 2/2018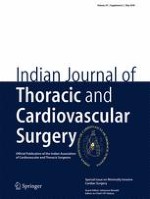 Minimally invasive cardiac surgery coronary artery bypass grafting (MICS CABG): a review of technique and literature
Autoren:

Ming Hao Guo, Maria Lorena Rodriguez, Marc Ruel
Abstract
Purpose
Minimally invasive cardiac surgery has emerged as a safe alternative to standard cardiac surgery. Minimally invasive coronary surgery (MICS CABG) is developed to allow adequate exposure and complete revascularization in CABG from a small thoracotomy incision without cardiopulmonary bypass.
Method
The literature of the technique and evidence of the MICS CABG procedure is reviewed.
Results
In its earlier phase, MICS CABG required the adherence to a number of absolute and relative contraindications. The technique continues to evolve, and in addition to multi-vessel revascularization, bilaterally internal thoracic artery take down are currently feasible to allow for multi-arterial grafting. The success of an MICS CABG procedure also requires cooperation between the surgeon, anesthesiologist, and perfusionist and diligent management of hemodynamics. To date, 11 articles have been published on experiences with MICS CABG. MICS CABG is a safe alternative to sternotomy CABG in early and long-term post-operative mortality and morbidity, and has significantly shorter length of hospital stay and earlier post-operative physical recovery compared to sternotomy CABG.
Conclusions
Evidences are emerging that MICS CABG maintains equivocal safety profile to sternotomy CABG, while providing superior morbidity profile and post-operative recovery. Further randomized control trials involving the comparison between MICS CABG and PCI or traditional CABG would widen the applicability and utilization of the procedure.