28.01.2020 | Ausgabe 12/2020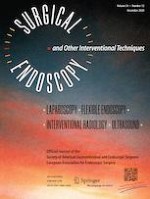 Minimally invasive surgery versus radiofrequency ablation for single subcapsular hepatocellular carcinoma ≤ 2 cm with compensated liver cirrhosis
Zeitschrift:
Autoren:

Chih-Hao Lin, Cheng-Maw Ho, Chih-Horng Wu, Po-Chin Liang, Yao-Ming Wu, Rey-Heng Hu, Po-Huang Lee, Ming-Chih Ho
Wichtige Hinweise
Publisher's Note
Springer Nature remains neutral with regard to jurisdictional claims in published maps and institutional affiliations.
Abstract
Background
There is currently no consensus regarding the relative applicability of minimally invasive treatment, including radiofrequency ablation (RFA) and minimally invasive surgery (MIS) in patients with a single small peripheral hepatocellular carcinoma (HCC) and compensated cirrhosis. This study investigated the clinical outcomes of MIS and RFA for single subcapsular HCC ≤ 2 cm in patients with compensated cirrhosis.
Methods
In this retrospective study, we enrolled 75 patients who had a single subcapsular HCC ≤ 2 cm along with Child–Pugh class A cirrhosis and a preoperative platelet count ≥ 100 k/μl. These patients underwent RFA (
n
 = 39) or MIS (
n
 = 36) between 2010 and 2016. Clinical outcomes including disease-free survival (DFS), survival without recurrence beyond the Milan criteria (RBM), and overall survival (OS) were compared.
Results
The 7-year DFS rates in the MIS and RFA groups were 86.1% and 35.9% (
p
 < 0.001), respectively, the 7-year RBM rates were 88.9% and 66.7% (
p
 = 0.014), respectively, and the 7-year OS rates were 97.2% and 82.1% (
p
 = 0.008), respectively. RFA was associated with more ipsilateral lobe recurrence (20% vs. 83.4%,
p
 = 0.004), and 40% were in direct contact with the ablation penumbra. A Cox proportional hazard analysis identified RFA as an independent predictor of mortality (adjusted hazard ratio, 9.625,
p
 = 0.038). No major complications occurred in either group. RFA patients had a shorter hospital stay (median of 2 vs. 6 days,
p
 < 0.001) and operation time (median of 23.5 vs. 216 min,
p
 = 0.001).
Conclusions
MIS was associated with a better 7-year OS, RBM, and DFS among patients with single subcapsular HCC ≤ 2 cm, Child–Pugh A liver function, and no clinically significant portal hypertension when compared to those who underwent percutaneous RFA.