01.12.2018 | Primary research | Ausgabe 1/2018 Open Access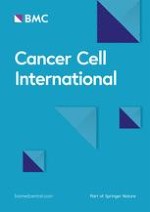 miR-1236-3p inhibits invasion and metastasis in gastric cancer by targeting MTA2
Zeitschrift:
Autoren:

Jia-Xiang An, Ming-Hui Ma, Chun-Dong Zhang, Shuai Shao, Nuo-Ming Zhou, Dong-Qiu Dai
Abstract
Background
MicroRNAs deregulation are common in human tumor progression. miR-1236-3p has been reported to function as tumor suppressor microRNA in various malignancies. The aim of this study was to demonstrate the downregulated expression of miR-1236-3p in gastric cancer (GC) tissues and cell lines, and clarify its biological function in GC.
Methods
Real-time polymerase chain reaction was used to measure the mRNA level of miR-1236-3p in GC. Dual luciferase assay was used to demonstrate that MTA2 was one of the candidate target genes of miR-1236-3p. Western blots were utilized to detect the protein levels. Cell function assays were also performed to determine the function of miR-1236-3p in GC.
Results
miR-1236-3p expression, which was associated with lymph node metastasis, differentiation and clinical stage, was significantly reduced in GC tissues and cell lines. miR-1236-3p over-expression could inhibit GC cell proliferation, migration and invasion, and inhibition of miR-1236-3p expression had opposite effects. Furthermore, we demonstrated that MTA2 was a candidate target of miR-1236-3p, and miR-1236-3p over-expression significantly inhibited the process of epithelial–mesenchymal transition. We also found that miR-1236-3p could suppress the PI3K/Akt signaling pathway in GC cells.
Conclusions
Our results suggest that miR-1236-3p functions as a tumor suppressor in GC and could be a promising therapeutic target for GC.