19.01.2017 | Original Article | Ausgabe 4/2017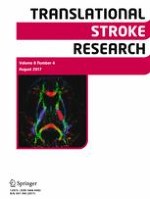 MiR-126 Affects Brain-Heart Interaction after Cerebral Ischemic Stroke
Zeitschrift:
Autoren:

Jieli Chen, Chengcheng Cui, Xiaoping Yang, Jiang Xu, Poornima Venkat, Alex Zacharek, Peng Yu, Michael Chopp
Abstract
Cardiovascular diseases are approximately three times higher in patients with neurological deficits than in patients without neurological deficits. MicroRNA-126 (MiR-126) facilitates vascular remodeling and decreases fibrosis and is emerging as an important factor in the pathogenesis of cardiovascular diseases and cerebral stroke. In this study, we tested the hypothesis that decreased miR-126 after ischemic stroke may play an important role in regulating cardiac function. Wild-type (WT), specific conditional-knockout endothelial cell miR-126 (miR-126
EC−/−
), and miR-126 knockout control (miR-126
fl/fl
) mice were subjected to distal middle cerebral artery occlusion (dMCAo) (
n
= 10/group). Cardiac hemodynamics and function were measured using transthoracic Doppler echocardiography. Mice were sacrificed at 28 days after dMCAo. WT mice subjected to stroke exhibited significantly decreased cardiac ejection fraction and increased myocyte hypertrophy, fibrosis as well as increased heart inflammation, infiltrating macrophages, and oxidative stress compared to non-stroke animals. Stroke significantly decreased serum and heart miR-126 expression and increased miR-126 target genes, vascular cell adhesion protein-1, and monocyte chemotactic protein-1 gene, and protein expression in the heart compared to non-stroke mice. MiR-126
EC−/−
mice exhibited significantly decreased cardiac function and increased cardiomyocyte hypertrophy, fibrosis, and inflammatory factor expression after stroke compared to miR-126
fl/fl
stroke mice. Exosomes derived from endothelial cells of miR-126
EC−/−
(miR-126
EC−/−
EC-Exo) mice exhibited significantly decreased miR-126 expression than exosomes derived from miR-126
fl/fl
(miR-126
fl/fl
-EC-Exo) mice. Treatment of cardiomyocytes subjected to oxygen glucose deprivation with miR-126
fl/fl
-EC-Exo exhibited significantly decreased hypertrophy than with miR-126
EC−/−
EC-Exo treatment. Ischemic stroke directly induces cardiac dysfunction. Decreasing miR-126 expression may contribute to cardiac dysfunction after stroke in mice.