01.12.2018 | Research | Ausgabe 1/2018 Open Access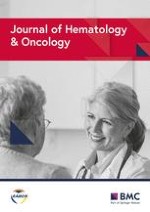 miR-182-5p promotes hepatocellular carcinoma progression by repressing FOXO3a
Zeitschrift:
Autoren:

Man-Qing Cao, A-Bin You, Xiao-Dong Zhu, Wei Zhang, Yuan-Yuan Zhang, Shi-Zhe Zhang, Ke-wei Zhang, Hao Cai, Wen-Kai Shi, Xiao-Long Li, Kang-Shuai Li, Dong-Mei Gao, De-Ning Ma, Bo-Gen Ye, Cheng-Hao Wang, Cheng-Dong Qin, Hui-Chuan Sun, Ti Zhang, Zhao-You Tang
Abstract
Background
High frequency of recurrence is the major cause of the poor outcomes for patients with hepatocellular carcinoma (HCC). microRNA (miR)-182-5p emerged as a high-priority miRNA in HCC and was found to be related to HCC metastasis. Whether the expression of miR-182-5p in tumor tissue correlated with early recurrence in HCC patients underwent curative surgery was unknown.
Methods
Real-time PCR (RT-PCR) and in situ hybridization (ISH) were conducted to assess the expression of miR-182-5p in HCC cells and tissues. Cell Counting Kit-8 (CCK-8), transwell assays were performed to detected cells proliferation and migration ability. Flow cytometry assays were used to detect cell apoptosis rate, and xenograft model was employed to study miR-182-5p in HCC growth and lung metastasis. The target of miR-182-5p was validated with a dual-luciferase reporter assay and western blotting. Immunohistochemistry, immumoblotting, and immunoprecipitation were performed to test relative protein expression.
Results
We showed that high expression of miR-182-5p in tumor tissues correlated with poor prognosis as well as early recurrence in HCC patients underwent curative surgery. miR-182-5p enhanced motility and invasive ability of HCC cells both in vitro and in vivo. miR-182-5p directly targets 3′-UTR of FOXO3a and repressed FOXO3a expression, activating AKT/FOXO3a pathway to promote HCC proliferation. Notably, miR-182-5p activated Wnt/β-catenin signaling by inhibiting the degradation of β-catenin and enhancing the interaction between β-catenin and TCF4 which was mediated by repressed FOXO3a.
Conclusions
Consistently, miR-182-5p can be a potential predictor of early recurrence for HCC patients underwent curative surgery, and FOXO3a plays a key mediator in miR-182-5p induced HCC progression.