01.12.2018 | Research | Ausgabe 1/2018 Open Access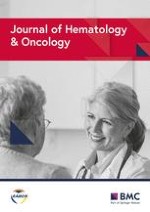 miR-182-5p promotes hepatocellular carcinoma progression by repressing FOXO3a
Zeitschrift:
Autoren:

Man-Qing Cao, A-Bin You, Xiao-Dong Zhu, Wei Zhang, Yuan-Yuan Zhang, Shi-Zhe Zhang, Ke-wei Zhang, Hao Cai, Wen-Kai Shi, Xiao-Long Li, Kang-Shuai Li, Dong-Mei Gao, De-Ning Ma, Bo-Gen Ye, Cheng-Hao Wang, Cheng-Dong Qin, Hui-Chuan Sun, Ti Zhang, Zhao-You Tang
Abbreviations
ATCC
American Type Culture Collection
FACS
Fluorescence-activated cell sorting
LEF
Lymphoid enhancer-binding factor
SDS–PAGE
Sodium dodecyl sulfate polyacrylamide gel electrophoresis
SGK
Serum and glucocorticoid-regulated kinase
TP53INP1
Tumor protein 53-induced nuclear protein 1
VEGF
Vascular endothelial growth factor
Background
Hepatocellular carcinoma (HCC) is a prevalent malignancy that ranks the third leading cause of cancer mortality worldwide [
1
]. High frequencies of recurrence and metastasis are the major causes for the poor clinical outcomes of HCC patients. Increasing evidences have supported that miRNA deregulation is in correlation with HCC progression [
2
,
3
]. By targeting the 3′-untranslated region (UTR) of the mRNA, miRNA leads to inhibition of targeted mRNA depending on total or partial complementarity [
4
,
5
]. miR-182-5p, a member of the miR-183/96/182 cluster, emerged as a high-priority miRNA in HCC and has been proven to be related to various cancers. However, the function of miR-182-5p is complicated because it can be an oncogene or a tumor suppressor in the context of different cancers. miR-182-5p is identified as onco-miR in ovarian cancer [
6
], breast cancer [
7
], and melanoma [
8
] and acts as tumor suppressor in RCC [
9
,
10
] and glioblastoma [
11
,
12
]. In HCC, miR-182-5p contributes to HCC metastasis by targeting metastasis suppressor 1 (MTSS1) [
13
], and upregulated miR-182-5p increases drug resistance in cisplatin-treated HCC cells by regulating tumor protein 53-induced nuclear protein 1 (TP53INP1) [
14
]. In addition, increased miR-182-5p can be of diagnostic and prognostic value in HCC patients [
15
]. However, whether miR-182-5p was involved in early recurrence of HCC remained unknown. We here investigated the relationship between miR-182-5p and early recurrence of HCC patients underwent curative surgery and further explored the underlying mechanisms of miR-182-5p in promoting HCC progression.
FOXO3a, a member of Forkhead box O (FOXO) transcription factor family, mediates many genes through its transcriptional activity, with important roles in cell fate decisions and is also suggested to play a pivotal role as a tumor suppressor in a wide range of cancers [
16
–
18
]. FOXO3a is an important target of PI3K/Akt pathway. Activated AKT phosphorylates FOXO3a and leads to its cytoplasmic translocation and subsequently degradation [
19
]. In addition to AKT, there are other negative regulators of FOXO3a, such as serum and glucocorticoid-regulated kinase (SGK) [
20
,
21
]. It has been reported that activation of the Wnt signaling pathway induced expression of SGK1 and lead to nuclear exclusion of FOXO3a [
21
], indicating that FOXO3a was under the regulation of Wnt/β-catenin signaling pathway. In contrast, FOXO3a was reported to inhibit the expression β-catenin by transactivating miR-34b/c in prostate cancer [
22
], and FOXO3a can directly bind to β-catenin and compete with T cell factor (TCF) for the interaction to β-catenin, thereby inhibiting β-catenin/TCF transcriptional activity [
23
].
In the present study, we demonstrated that miR-182-5p could be a potential predictor for early recurrence of HCC patients underwent curative surgery, and miR-182-5p acted as a promoter of HCC growth both in vitro and in vivo
.
Notably, we found that miR-182-5p activated Wnt signaling pathway by inhibiting the degradation of β-catenin and enhancing the interaction between β-catenin and TCF4, which was mediated by repressed FOXO3a. These results provide new insight into the mechanism of miR-182-5p in promoting HCC progression.
Methods
Cell culture and transfection
HEK293T was originally obtained from the American Type Culture Collection (ATCC). MHCC-97H and MHCC-97L are human hepatocellular carcinoma cell lines with high metastatic potential [
24
], obtained from Liver Cancer Institute. All cell lines were maintained in Dulbecco's modified Eagle's medium supplemented with 10% FBS, 10 U/mL penicillin, and 10 mg/mL streptomycin. Cells were grown in a humidified atmosphere at 37 °C at gas tensions of 20% O
2
/5% CO
2
for normoxic incubation.
Plasmids used in the experiment:
miRNA inhibitor scrambled control: CmiR-AN0001-AM03, anti-miR-182-5p: HmiR-AN0239-AM03, miR-182-5p: HmiR0115-MR03, miR-NC: CmiR0001-MR03, and Lenti-Pac™ HIV Expression Packaging Kit (Cat.No. HPK-LvTR-20) were all purchased from the GeneCopoeia.
Cellular proliferation assay and transwell assay
For the cell proliferation assay, 5 × 10 3 cells were plated in 96-well plates. Cell growth was determined by using CCK8 assay. After transfection, MHCC-97H and MHCC-97L cells were suspended in 100 μL serum-free medium and placed in the upper chambers of the transwell and incubated at 37 °C for 72 h for the invasion assay. The cells that penetrated the matrigel-coated filters were counted at a magnification of × 200 in eight randomly selected fields, and the mean number of cells per field was recorded.
Immunoprecipitation
Whole-cell extracts were prepared in immunoprecipitation (IP) lysis buffer. The extracts were incubated overnight at 4 °C with 4 μg antibody and for an additional 2 h with protein A/G agarose beads. Beads were then washed three times with the lysis buffer, and the beads with the immunoprecipitates were resuspended in sodium dodecyl sulfate polyacrylamide gel electrophoresis (SDS–PAGE) sample buffer and heated at 95 °C for 10 min. Subsequently, the supernatants were analyzed by SDS-PAGE followed by western blot.
Western blotting
AKT #4685 CST; p-AKT Ser473 #4060 CST; Bcl-2 #15071; Bcl-xl #2764 CST; Cyclin D1 #2922 CST; SGK #12103 CST; β-actin #3700 CST; Wnt3a #2721 CST; Wnt/β-catenin Activated targets antibody Sampler Kit #8655 CST; Forkhead Signaling Antibody Sampler Kit #9946 CST.
RNA preparation and real time-PCR (RT-PCR)
Total RNA including miRNAs was extracted from cells using TRIzol reagent (Invitrogen) following the manufacturer's protocol. For analysis of miR-182-5p expression, reverse transcription and stem-loop RT-PCR were performed using the TaqMan MicroRNA assays (Applied Biosystems, Foster City, CA, USA) and amplified by TaqMan Universal PCR Master Mix (Applied Biosystems). U6 snRNA was probed as a loading control.
In situ hybridization (ISH)
ISH was used to detect miR-182-5p in tissue microarrays using digoxigenin-labeled sense and antisense miR-182-5p probes (Exiqon, 610341-360, Denmark). The slides were de-paraffined and rehydrated before incubation with Proteinase K at 37 °C for 40 min, then wash the slides three times with PBS for 15 min. After incubation with 5× SSC solution at room temperature for 15 min, miR-182-5p probes were added for hybridization at 50 °C for 1 h. Next, the slides were washed with graded-diluted SSC solutions at 50 °C for 30 min, followed by incubation with an antibody against digoxigenin (1:1000, Roche, Mannheim, Germany) at 4 °C overnight. Finally, hybridization signals were visualized by NBT/BCIP (Sigma), and the reaction was stopped by washing with water for 5 min. At last, slides were counterstained with nuclear fast red for 1 min and then mounted using an aqueous solution.
Dual-luciferase reporter assay
The 3′-UTR segments of FOXO3a including the wild type or the mutant type of miR-182-5p binding sites were cloned into the downstream of the luciferase reporter, the pmirGLO Dual-Luciferase miRNA Target Expression Vector (Promega, Madison, USA), between the SacI and SalI sites and verified by sequencing. HEK 293 T cells were plated into 24-well plates and transfected with 50 nM miR-182-5p or NC and 100 ng of the luciferase vector (pmirGLO). Cells were harvested 48 h after the transfection. The relative luciferase activity was measured by the Dual-Glo luciferase assay kit (Promega).
Human samples
This study was approved by the clinical research ethics committee of the Shanghai Zhongshan Hospital of Fudan University. The tumor specimens for tissue microarrays were obtained from 119 patients who underwent surgery during July 2014 to May 2015 at the Shanghai Zhongshan Hospital of Fudan University. The disease-free survival was calculated from the date of resection to the date of tumor recurrence.
Tumor xenografts in nude mice
Statistical analysis
Immunohistochemistry (IHC) data were analyzed using a χ
2
test. A two-tailed
t
test was used to compare the means between two sets, and a one-way analysis of variance was used to compare the means among three groups. By the Kaplan-Meier method and the log-rank test, survival curve analysis was performed to study the role of miR-182-5p in HCC progression. The data were analyzed with SPSS software version 19.0 (SPSS Inc., Chicago, IL, USA).
P
 < 0.05 (two-sided) was considered statistically significant.
Results
Discussion
Our results showed that miR-182-5p was overexpressed in both HCC cell lines and HCC tissues. Moreover, miR-182-5p was related to poor prognosis and early recurrence in HCC. By univariate and multivariate analyses, we found that the expression of miR-182-5p could be regarded a potential predictor for early recurrence of HCC patients under curative surgery.
Conclusions
In conclusion, our results proved that miR-182-5p acted as a promoter in HCC and could be regarded as predictor for early recurrence of HCC patients underwent curative surgery. miR-182-5p negatively modulate FOXO3a by targeting 3′-UTR of mRNA in 72–79 site. We also proposed that FOXO3a played a key mediator in miR-182-5p induced malignant behaviors of HCC, which may provide new insight into the mechanism of miR-182-5p in HCC progression.
Acknowledgements
Not applicable.
Funding
This study was supported by the National Natural Science Foundation of China (No.81372635; No.81372655; No.81472224; No.81572434; No.81672326; and No.81672884) and National Science and Technology Major Project (No.2017ZX10203207).
Availability of data and materials
All data generated or analyzed during this study are included in this published article.
Ethics approval and consent to participate
This study was approved by the clinical research ethics committee of the Shanghai Zhongshan Hospital of Fudan University.
Consent for publication
All the patients that involved in the study have given their consent to publish their individual data.
Competing interests
The authors declare that they have no competing interests.
Publisher's Note
Springer Nature remains neutral with regard to jurisdictional claims in published maps and institutional affiliations.
Open Access
This article is distributed under the terms of the Creative Commons Attribution 4.0 International License (
http://​creativecommons.​org/​licenses/​by/​4.​0/​
), which permits unrestricted use, distribution, and reproduction in any medium, provided you give appropriate credit to the original author(s) and the source, provide a link to the Creative Commons license, and indicate if changes were made. The Creative Commons Public Domain Dedication waiver (
http://​creativecommons.​org/​publicdomain/​zero/​1.​0/​
) applies to the data made available in this article, unless otherwise stated.