01.12.2016 | Primary research | Ausgabe 1/2016 Open Access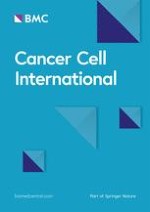 MiR-20a-5p represses multi-drug resistance in osteosarcoma by targeting the KIF26B gene
Zeitschrift:
Autoren:

Youguang Pu, Qiyi Yi, Fangfang Zhao, Haiyan Wang, Wenjing Cai, Shanbao Cai
Wichtige Hinweise
Youguang Pu, Qiyi Yi and Fangfang Zhao contributed equally to this work
Abstract
Background
Chemoresistance hinders curative cancer chemotherapy in osteosarcoma (OS), resulting in only an approximately 20 % survival rate in patients with metastatic disease at diagnosis. Identifying the mechanisms responsible for regulating chemotherapy resistance is crucial for improving OS treatment.
Methods
This study was performed in two human OS cell lines (the multi-chemosensitive OS cell line G-292 and the multi-chemoresistant OS cell line SJSA-1). The levels of miR-20a-5p and KIF26B mRNA expression were determined by quantitative real-time PCR. KIF26B protein levels were determined by western blot analysis. Cell viability was assessed by MTT assay. Apoptosis was evaluated by flow cytometry.
Results
We found that miR-20a-5p was more highly expressed in G-292 cells than in SJSA-1 cells. Forced expression of miR-20a-5p counteracted OS cell chemoresistance in both cell culture and tumor xenografts in nude mice. One of miR-20a-5p's targets, kinesin family member 26B (KIF26B), was found to mediate the miR-20a-5p-induced reduction in OS chemoresistance by modulating the activities of the MAPK/ERK and cAMP/PKA signaling pathways.
Conclusions
In addition to providing mechanistic insights, our study revealed that miR-20a-5p and KIF26B contribute to OS chemoresistance and determined the roles of these genes in this process, which may be critical for characterizing drug responsiveness and overcoming chemoresistance in OS patients.