01.12.2018 | Original investigation | Ausgabe 1/2018 Open Access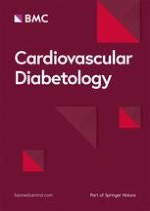 MiR-21 protected against diabetic cardiomyopathy induced diastolic dysfunction by targeting gelsolin
Zeitschrift:
Autoren:

Beibei Dai, Huaping Li, Jiahui Fan, Yanru Zhao, Zhongwei Yin, Xiang Nie, Dao Wen Wang, Chen Chen
Wichtige Hinweise
Electronic supplementary material
Abstract
Background
Diabetes is a leading cause of mortality and morbidity across the world. Over 50% of deaths among diabetic patients are caused by cardiovascular diseases. Cardiac diastolic dysfunction is one of the key early signs of diabetic cardiomyopathy, which often occurs before systolic dysfunction. However, no drug is currently licensed for its treatment.
Methods
Type 9 adeno-associated virus combined with cardiac Troponin T promoter were employed to manipulate miR-21 expression in the leptin receptor-deficient (db/db) mice. Cardiac structure and functions were measured by echocardiography and hemodynamic examinations. Primary cardiomyocytes and cardiomyocyte cell lines were used to perform gain/loss-of-function assays in vitro.
Results
We observed a significant reduction of miR-21 in the diastolic dysfunctional heart of db/db mice. Remarkably, delivery of miR-21 efficiently protected against the early impairment in cardiac diastolic dysfunction, represented by decreased ROS production, increased bioavailable NO and relieved diabetes-induced cardiomyocyte hypertrophy in db/db mice. Through bioinformatic analysis and Ago2 co-immunoprecipitation, we identified that miR-21 directly targeted gelsolin, a member of the actin-binding proteins, which acted as a transcriptional cofactor in signal transduction. Moreover, down-regulation of gelsolin by siRNA also attenuated the early phase of diabetic cardiomyopathy.
Conclusion
Our findings reveal a new role of miR-21 in attenuating diabetic cardiomyopathy by targeting gelsolin, and provide a molecular basis for developing a miRNA-based therapy against diabetic cardiomyopathy.