01.12.2018 | Research | Ausgabe 1/2018 Open Access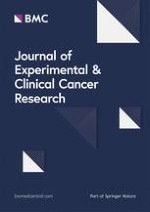 miR-221 stimulates breast cancer cells and cancer-associated fibroblasts (CAFs) through selective interference with the A20/c-Rel/CTGF signaling
Zeitschrift:
Autoren:

Maria Francesca Santolla, Rosamaria Lappano, Francesca Cirillo, Damiano Cosimo Rigiracciolo, Anna Sebastiani, Sergio Abonante, Pierfrancesco Tassone, Pierosandro Tagliaferri, Maria Teresa Di Martino, Marcello Maggiolini, Adele Vivacqua
Abstract
Background
MicroRNA (miRNAs) are non-coding small RNA molecules that regulate gene expression by inhibiting the translation of target mRNAs. Among several dysregulated miRNAs in human cancer, the up-regulation of miR-221 has been associated with development of a variety of hematologic and solid malignancies. In this study, we investigated the involvement of miR-221 in breast cancer.
Methods
TaqMan microRNA assay was used to detect the miR-221 levels in normal cells and in MDA-MB 231 and SkBr3 breast cancer cells as well as in main players of the tumor microenvironment, namely cancer-associated fibroblasts (CAFs). miR-221 mimic sequence and locked nucleic acid (LNA)-i-miR-221 construct were used to induce or inhibit, respectively, the miR-221 expression in cells used. Quantitative PCR and western blotting analysis were performed to evaluate the levels of the miR-221 target gene A20 (TNFAIP3), as well as the member of the NF-kB complex namely c-Rel and the connective tissue growth factor (CTGF). Chromatin immunoprecipitation (ChIP) assay was performed to ascertain the recruitment of c-Rel to the CTFG promoter. Finally, the cell growth and migration in the presence of LNA-i-miR-221 or silencing c-Rel and CTGF by specific short hairpin were assessed by cell count, colony formation and boyden chambers assays. Statistical analysis was performed by ANOVA.
Results
We first demonstrated that LNA-i-miR-221 inhibits both endogenous and ectopic expression of miR-221 in our experimental models. Next, we found that the A20 down-regulation, as well as the up-regulation of c-Rel induced by miR-221 were no longer evident using LNA-i-miR-221. Moreover, we established that the miR-221 dependent recruitment of c-Rel to the NF-kB binding site located within the CTGF promoter region is prevented by using LNA-i-miR-221. Furthermore, we determined that the up-regulation of CTGF mRNA and protein levels by miR-221 is no longer evident using LNA-i-miR221 and silencing c-Rel. Finally, we assessed that cell growth and migration induced by miR-221 in MDA-MB 231 and SkBr3 breast cancer cells as well as in CAFs are abolished by LNAi-miR-221 and silencing c-Rel or CTGF.
Conclusions
Overall, these data provide novel insights into the stimulatory action of miR-221 in breast cancer cells and CAFs, suggesting that its inhibition may be considered toward targeted therapeutic approaches in breast cancer patients.