01.12.2018 | Research | Ausgabe 1/2018 Open Access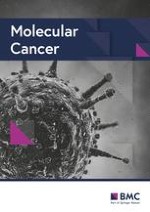 MiR-25-3p promotes the proliferation of triple negative breast cancer by targeting BTG2
Zeitschrift:
Autoren:

Hua Chen, Hong Pan, Yi Qian, Wenbin Zhou, Xiaoan Liu
Wichtige Hinweise
Electronic supplementary material
Abstract
Background
Triple-negative breast cancer (TNBC) is highly invasive and aggressive and lacks specific molecular targets to improve the prognosis. MiR-25-3p promotes proliferation of many tumors and its role and underlying mechanisms in TNBC remain to be well elucidated.
Methods
Differential expression of miR-25-3p in TNBC was measured with quantitative real-time PCR (qRT-PCR) in both TNBC tissues and cell lines and was validated in the Cancer Genome Atlas (TCGA) database. The effects of miR-25-3p on proliferation, apoptosis capacity of TNBC were evaluated using Cell counting kit-8 (CCK-8), colony formation assay and Annexin V-FITC/PI analyses. The tumor growth in vivo was observed in xenograft model. Luciferase reporter assay, qPCR and western blot were performed to validate a potential target of miR-25-3p in TNBC. Involvement of the AKT and MAPK pathways was investigated by western blot.
Results
MiR-25-3p was found to be upregulated in TNBC in tissues and cell lines. MiR-25-3p promoted TNBC cell proliferation in vitro and tumor growth in xenograft model, while suppression of miR-25-3p induced cell apoptosis. The luciferase reporter assay confirmed that B-cell translocation gene 2 (BTG2) might be a direct target of miR-25-3p, and its expression was negatively regulated by miR-25-3p. Moreover, inhibition of BTG2 expression accounted for the role of miR-25-3p in TNBC. Furthermore, BTG2 suppression might indirectly activate the AKT and ERK-MAPK signaling pathways to mediate the downstream effects of miR-25-3p.
Conclusions
This study demonstrates that miR-25-3p promotes proliferation by targeting tumor suppressor BTG2 and may identify new diagnostic and therapeutic targets in TNBC.