08.04.2019 | Review Paper | Ausgabe 2/2019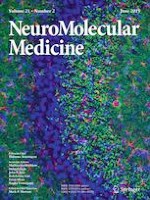 MiR-34 and MiR-200: Regulator of Cell Fate Plasticity and Neural Development
Zeitschrift:
Autoren:

Abhishek Jauhari, Sanjay Yadav
Wichtige Hinweise
Publisher's Note
Springer Nature remains neutral with regard to jurisdictional claims in published maps and institutional affiliations.
Abstract
Studies from last two decades have established microRNAs (miRNAs) as the most influential regulator of gene expression, especially at the post-transcriptional stage. The family of small RNA molecules including miRNAs is highly conserved and expressed throughout the multicellular organism. MiRNAs regulate gene expression by binding to 3′ UTR of protein-coding mRNAs and initiating either decay or movement of mRNAs to stress granules. Tissues or cells, which go through cell fate transformation like stem cells, brain cells, iPSCs, or cancer cells show very dynamic expression profile of miRNAs. Inability to pass the developmental stages of Dicer (miRNA maturation enzyme) knockout animals has confirmed that expression of mature and functional miRNAs is essential for proper development of different organs and tissues. Studies from our laboratory and elsewhere have demonstrated the role of miR-200 and miR-34 families in neural development and have shown higher expression of both families in mature and differentiated neurons. In present review, we have provided a general overview of miRNAs and focused on the role of miR-34 and miR-200, two miRNA families, which have the capability to change the phenotype and fate of a cell in different tissues and situations.