01.12.2018 | Research | Ausgabe 1/2018 Open Access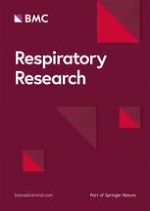 miR-34a is involved in CSE-induced apoptosis of human pulmonary microvascular endothelial cells by targeting Notch-1 receptor protein
Zeitschrift:
Autoren:

Ying-Jiao Long, Xiao-Peng Liu, Shan-Shan Chen, Dan-Dan Zong, Yan Chen, Ping Chen
Abstract
Background
Abnormal apoptosis of lung endothelial cells has been observed in emphysematous lung tissue and has been suggested to be an important upstream event in the pathogenesis of chronic obstructive pulmonary disease (COPD). Studies have shown that microRNAs (miRNAs) contribute to the pathogenesis of pulmonary diseases by regulating cell apoptosis. The present study was designed to investigate the expression of microRNA-34a (miR-34a) in human pulmonary microvascular endothelial cells (HPMECs) exposed to cigarette smoke extract (CSE), and the potential regulatory role of miR-34a in endothelial cell apoptosis.
Results
Our results showed that the expression of miR-34a was significantly increased in CSE-treated HPMECs, and inhibiting miR-34a attenuated CSE-induced HPMEC apoptosis. Furthermore, expression of Notch-1, a receptor protein in the Notch signalling pathway, was decreased and was inversely correlated with miR-34a expression in HPMECs treated with CSE. Computational miRNA target prediction confirmed that Notch-1 is a target of miR-34a. Luciferase reporter assay further confirmed the direct interaction between miR-34a and the 3'-untranslated region (UTR) of Notch-1. Restoration of Notch-1 pathway was able to partially block the effect of miR-34a on HPMEC apoptosis. These results indicate that Notch-1 is a critical downstream target of miR-34a in regulating the CSE-induced HPMEC apoptosis.
Conclusions
Our results suggest that miR-34a plays a key role in CSE-induced endothelial cell apoptosis by directly regulating its target gene Notch-1 in endothelial cells.