01.12.2017 | Primary Research | Ausgabe 1/2017 Open Access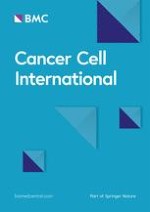 miR-484 suppresses proliferation and epithelial–mesenchymal transition by targeting ZEB1 and SMAD2 in cervical cancer cells
Zeitschrift:
Autoren:

Yang Hu, Hong Xie, Yankun Liu, Weiying Liu, Min Liu, Hua Tang
Abstract
Background
MicroRNAs (miRNAs) play important roles in cancer initiation and development. Epithelial–mesenchymal transition (EMT) is a form of cellular plasticity that is critical for embryonic development and metastasis. The purpose of the study was to determine the function and mechanism of miR-484 in initiation and development of cervical cancer (CC).
Methods
We determined the expression levels of miR-484 in cervical cancer tissues and cell lines with RT-qPCR. Prediction algorithms and EGFP reporter assay were performed to evaluate the targets for miR-484. MTT assay, colony formation assay, flow cytometric analysis, transwell cell migration and invasion assays, and detection of EMT markers were employed to investigate the roles of miR-484 and the targets in regulation of cell proliferation and EMT process. We also used rescue experiments to confirm the effect of miR-484 on CC cells through directly regulating the expression of its targets.
Results
Firstly we found miR-484 was down-regulated in cervical cancer tissues and cell lines compared with their matched non-cancerous tissues or normal cervical keratinocytes cells. Further studies revealed that overexpression of miR-484 suppressed the cell proliferation, while exacerbates apoptosis. Besides, miR-484 suppressed cellular migration, invasion and EMT process of CC cells. EGFP reporter assay showed that miR-484 binds to ZEB1 and SMAD2 3′UTR region and reduced their expression. The expression of miR-484 had reverse correlation with SMAD2/ZEB1, and SMAD2/ZEB1 had positive correlation with each other in cervical cancer tissues and cell lines. Furthermore, the ectopic expression of ZEB1 or SMAD2 could rescue the malignancies suppressed by miR-484, suggesting that miR-484 down-regulates ZEB1 and SMAD2 to repress tumorigenic activities.
Conclusion
We found miR-484 inhibits cell proliferation and the EMT process by targeting both ZEB1 and SMAD2 genes and functions as a tumor suppressor, which may served as potential biomarkers for cervical cancer.